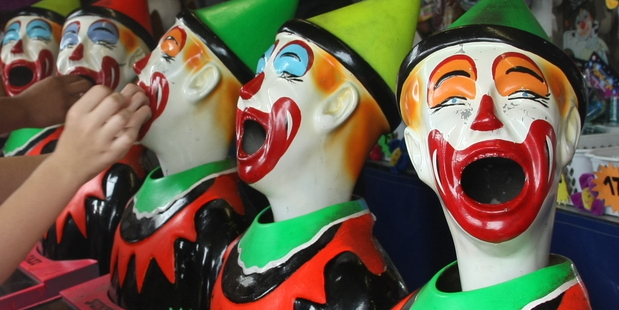 Kiwi baby boomers were luckiest generation of a more innocent age
Labour weekend. A big few days in Hawkes Bay this weekend. There's the A&P show in Hastings, a charming, old-fashioned do which I avoid like the plague, recalling as one does from one's childhood the sickening heat of the sun, the stink of the horse pee and the heavy, relentless smell of candy floss and hot dogs.
Actually, it was at one of the hot dog stands at the show years ago, when I was about 14, that I got my first job. I learnt a valuable lesson. Don't be shy. Ask and you just might get. I went round the carnival stalls asking for work over the few days of the show. At the hotdog caravan a stout, smooth-skinned woman with red generous lips and screeds of long dark hair neatly tied into a high bun took me on. Money was never discussed. I assumed I'd get paid. I was to show up at 8.30 next morning.
Which I did. On my bike, an early morning ride in from Haumoana of about 12km.
I parked the bike round the back, she put me into a white apron and showed me how to skim around the candy-floss machine with a stick. You poured sugar into its bowl and it blew out a sticky, misty, wavy floss and you wound it round a stick and handed it across to a happy customer. God, it must have been bad for you. I don't think I was allowed to work the till. I gave the money to Doris for that. I don't know if her name was Doris, I've long forgotten her name, but she fits Doris. She was nice enough, but bossy.
There was an older boy from our school, Russell, and he was entrusted with the hot dogs. I so wanted to make the hot dogs, but Russell was there even before me and I think had worked for the woman the year before and he got the hot dog job. Never mind. And anyway, we were allowed a couple of free hot dogs during the day, which ameliorated that resentment.
Business got under way and never stopped. At about 6 in the evening Doris told me I could knock off. Still no mention of money. Suddenly a little Englishman in a checked orange jacket and a natty bow tie appeared, late 40s, wavy brown hair, charming voice, far too well-spoken for that job. You did not see his like in Hastings. He was a real carnival man.
I suppose, looking back, he may have been a remittance man, the scion of a good family who played up and was sent to the far colonies with an allowance and asked not to return. He smiled and told me to hold out my hand. He placed a 10 shilling note ($1) on my palm. Then another. Then another. Then another. I think in all he stopped after 6 of them. Three pounds ($6)! I was in heaven. I'm sure my eyes looked as Mr Dotcom says Mr Banks' eyes looked (getting bigger and bigger) as he wrote the cheques for $50,000. I rode home bursting with pride.
I'm bursting with pride again this weekend, for another reason. This weekend our old school, Karamu High, celebrates its 50th jubilee.
I say old. It wasn't when we started. It was almost new. My friends and I rolled along as the school began its second year of existence, in 1963, having opened its doors for the first intake in 1962. Karamu was one of the many baby boomer schools.
We were indeed the lucky generation. We had a brand new school built for us. We had no Great Depression to endure and survive. The war was won, our dads had fought Hitler to the death. There was peace. And for us, there always would be.
And not only was the education free to everyone all the way up to the seventh form but the state provided you with textbooks as well. I think mums and dads might have paid a small amount for exercise books and pens and pencils and there was a uniform to buy but heck, we loved the uniform.
Our dear parents hadn't had that. Many couldn't afford to go to high school, and there it was for us, laid out on a plate. Many talented young boys and girls. No one I knew looked round to see what the best school was. The bus was going to take us to Karamu and that was that. There was no discussion.
And we headed off to Karamu and people like me and Mike Williams, the former Labour Party president, Steve Chadwick the Labour MP and a Cabinet minister under Helen Clark, and David Butcher, a Lange Cabinet minister, and Margaret Frykberg (Margaret Bendall as she became), who was for a long time principal at Epsom Girls Grammar, all got damned good educations.
We came out of that school and could hold our own anywhere.
And the Karamu principal has invited me to deliver the keynote address at the jubilee today. Fifty years of Karamu.
I wouldn't miss it for the world. I owe the school so much.

Listen to Paul Holmes on Newstalk ZB from 9am today.