Paul Rush gets some deep sea action outside the Rarotonga reef.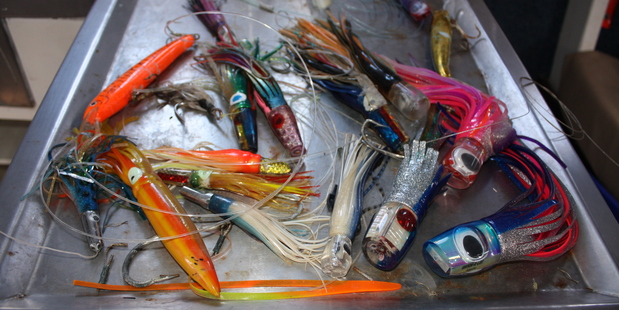 My Shimano rod is bent in a tight curve as the great fish dives towards the seabed, dragging nylon line off the reel at a rate of knots. The big game reel is screaming under the strain, the side plates are heating up and my arms feel like lumps of lead carrying the weight.
Finally, I seem to gain the upper hand and crank hard to retrieve line. A faint white smudge appears below the surface. Suddenly a sleek, powerful wahoo launches itself two metres out of the water like a performing acrobat and crashes down in a flurry of flying spray. I struggle hard to draw the 20kg fish up to the boat, where the skipper cuts him loose - it's catch and release for wahoo today. The monster takes off like an express train at 80kph. I've just hooked the fastest fish in the ocean.
I take a spell from my piscatorial labours in the forward bunkroom easing my back down onto a soft squab. Above my head are two whimsical printed slogans that prove fishermen have a sense of humour. 'Born to fish, but forced to work' and 'If they don't have fishing in Heaven I'm not going'.
My little jaunt out of Rarotonga's Avatui Harbour on the Pelin hull sportfisher Akura, begins on a clear blue sky morning in July. The sturdy vessel eases out of the marina, glides through a narrow gap in the fringing reef and within five minutes we are in marlin fishing territory with a 120 metre water column below the boat. Trade winds are livening up the deep blue seas in this little pocket paradise in the heart of the Pacific Ocean.
George Koteka is the skipper and Joe Vakatini the deckhand. Both have fished these waters all their lives and hold many game fishing records. George's briefing on this sunny 24°C mid-winter day has the Kiwis on board looking at each other in mock surprise. 'It's one of those horrible days in paradise; a southerly is blowing hard, I'm wearing longs and a beanie and will soon slip into a wet weather jacket to insulate me from the cold.' He's not joking and later does wrap up warm.
'We run a dry boat with only sandwiches and water - when we get back to port we make up for it. We'll be back at 2pm tomorrow, so you'll miss your cruise I'm sorry.' Our look changes from surprise to horror as we have come off the cruise liner Pacific Sun on a day excursion - George is joking again.
Joe tells us he's fished out of Tutukaka in Northland. Auckland is like a second home for most Rarotongans. George has hosted both Bill Hohepa and Graeme Sinclair's TV fishing programmes in the past. Back in 1978 Joe drove the last Wellington tram from Thorndon to the Newtown Zoo.
Two flying fish suddenly appear, sailing through the air like graceful dive bombers. Skipjack tuna are in the area and with seven lines trolling behind the boat there's an air of expectation on board. The brightly coloured fishing lures skip merrily over the water like frightened bait fish. Two lures at the end of the outrigger lines are wobbling frantically just under the surface, inviting a spectacular strike.
Three rods are dragged down simultaneously and the cry goes out. 'Grab the rods - quick!' Three of us race into position and take up the strain. My fish feels like a tonne weight as the boat is still going forward. The fish then dives deep over the top of the next line, which goes slack and my companion momentarily thinks he has lost his fish. Then my fish gets confused and swims towards the boat and I wind in line frantically, keeping the rod tip up and maintaining pressure on the line. When it sees the boat it goes berserk, leaping in the air, twisting, turning, somersaulting in a vain attempt to throw the hook.
After much grunting and straining we haul three 6kg skipjack tuna onboard, which George quickly dispatches inside the storage bin. The skippies are usually numerous in July but later in the year blue marlin, yellowfin tuna, mahimahi, white tips, tiger sharks, bronze-whalers and hammerheads make their appearance. George has often spotted spinner dolphins, humpback whales and whale sharks out in these deep waters. Joe's best day's catch was a marlin and 20 tuna while George can claim six wahoo, 30 tuna and three amberjack (kingfish).
We continue to make trolling sweeps past two fish aggregation devices, known colloquially as 'Fads'. These are large metal cylinders anchored with heavy duty ropes about two kilometres offshore in one thousand metres of water. They are very effective in attracting fish and huge schools of skippies and yellowfins have been spotted by our skipper at times. He has seen oceanic sharks half the length of Akura coming in to check out the boat near the Fads.'
Viewing the island of Rarotonga from the water is equally as therapeutic as the fishing. The deep blue sea runs up to the broken white line of the coral reef, which is just fifty metres off white sand beaches backed by soaring coconut palms. Almost hidden by the lush vegetation are three iconic Cook Island institutions; Trader Jack's bar and restaurant, the Banana Court café and the District Court building. Beyond are the brilliant mossy green slopes of ancient volcanoes rising into classic conical peaks shrouded in wispy, cotton wool clouds. I find myself gazing repeatedly at this exhilarating tropical landscape in the quiet intervals between hook-ups.
Rarotonga has a special place in the hearts and minds of New Zealanders. For a period of 64 years from 1901 it was officially part of this country. In that first year of the 20th Century Prime Minister, 'King' Dick Seddon, decided that as France and Germany had an empire in the Pacific, we should have one too. So it was decided to annexe the Cook and Niue islands.
Surprisingly, Captain Cook landed on Palmerston and Atiu islands but was unaware of the existence of Rarotonga. This island was undoubtedly the last stepping off point for the various fleets of double canoes that brought the first Maori navigators to Aotearoa. They had migrated south from the Marquesas and Society Islands sometime after 400AD. Every expedition had first sought blessings and protection at Taputapuatea Marae on Raiatea Island, the spiritual and geographic hub of Polynesia.
Rarotonga is deservedly a very popular tourist destination and I never tire of its balmy climate, velvet smooth tepid waters and friendly people. Around 60,000 visitors come here each year to rub shoulders with the 9000 local residents who occupy an island that would comfortably sit inside Wellington Harbour.
I come ashore from my enjoyable day out on Akura and relax on the edge of the sea in Trader Jack's cafe. The air is still and fresh and the mid-winter temperature feels perfect. It's a much warmer and more relaxing version of home. The locals are friendly and share a few 'kai manuia' greetings, wishing that good fortune will shine upon me. In a way it already has, by coming to 'Raro' for some 'reel' excitement and tight lines. I'll be back in the mahimahi season.
FACT FILE
GETTING THERE
Air New Zealand operates daily services from Auckland to Rarotonga. There is a range of accommodation to suit all budgets and the local currency is the New Zealand dollar.
- Paul Rush travelled to Rarotonga with assistance from P&O Cruises.
- nzherald.co.nz