Graeme Lay discovers the remarkable life of the travellers who want to visit every country in the world.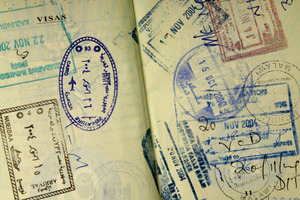 "There's supposed to be a Japanese guy coming with us, but I can't see him."
The questioner is a short, stocky American man in his late sixties with hair drawn back in a ponytail. He introduced himself minutes ago, in the departure lounge of Fa'aa Airport, Tahiti, where we're both waiting for a flight to Mangareva Island. From there we will take a ship to remote Pitcairn Island.
The American is Dave Evans. He's from Alaska, and he's returning to Pitcairn after working there as a geophysicist some years earlier. Obviously someone has briefed him about who is coming to the island.
"You're from New Zealand, right?" I nod. He frowns.
"Supposed to be three of us. There's you and me, and they said there'd be a Japanese guy coming, too."
Then Dave's frown relaxes. "Hey, that might be him, over there."
I follow his finger. Coming out of security is a tall young Asian man with long, coal-black hair.
He's wearing a World Cup Japanese rugby jersey and cargo pants, and is carrying a long leather tube. Dave rushes over to him. "You comin' to Pitcairn?"
The young man dips his head, respectfully. "Yes."
"Okay. I'm Dave, and this is Graeme."
The young man holds out his hand. "Thank you. I am Naoki." He's handsome, with a broad smooth face and neatly trimmed moustache and beard.
We board the Air Tahiti flight to Mangareva. Naoki is sitting next to me. He lays the long tube on the floor under the seat.
"What's in it?" I ask.
"Fishing rod. I very much like to fish."
"Are you going to Pitcairn to fish?"
"Yes." He pauses. "But also to add to ... my list."
"What list?"
"Of all countries in the world."
I gulp. "All the countries?"
"Yes."
Naoki explains, in hesitant but clear English. He owns a trading company in Tokyo and his work often takes him to America.
While there in 2009 he saw that Jetblue Airways was offering a pass enabling the traveller to fly to every Caribbean Island on the one ticket.
He took up this offer and after he had been to every island, decided to carry on and visit every country in the world. And so he has his list of 248, the last dozen of which he will visit after Pitcairn.
He recites his next destinations: "Niue, Tonga, Fiji, North Korea ..." He adds, "I am now on seventh passport." He laughs. "Second and fourth ones were stolen."
Naoki and I are on Pitcairn for seven days. Our paths often cross.
One morning I'm taken out fishing in one of the island's longboats. There's a steep chop on the sea. This doesn't bother the longboat, but I'm startled to see, among the big, dark blue swells, Naoki crouching in the stern of a dinghy.
He and his host, Steve Christian, are clutching their fishing rods. Neither is wearing a life jacket, and they look tiny and vulnerable, appearing then disappearing amid the ocean swells.
I'm fearful for them, but needn't have worried: when Steve brings Naoki safely back to the island the young man is jubilant - he's caught a wahoo almost as long as the dinghy.
Later, Dave takes us both on a tour of the rugged island, Naoki and me clinging to the back of his Honda quad-bike as it bumps and grinds its way around the hills.
At the end of a memorable week we sail back to Mangareva, then catch the plane back to Tahiti. The next day, entering the airport lounge, the first person I see is Naoki. He's organising his tickets and currency for North Korea.
Months later, I get an email from Naoki. He's back in Tokyo, having visited the last three countries on his list: South Africa, then St Helena and Ascension ("Fishing from shore!"). During the last 28 months, he reports, he has visited 150 countries.
"So now, I have been to 247 countries, out of 248! Only country I cannot go, is Lybia (sic). I cannot get to there, the visa were not issued for the person who have no relative or company working there."
Libya doesn't know what it's deprived itself of.
And Naoki's startling record leads me to a website. It seems that my Japanese friend is way down the list of global travellers.
According to Most Traveled People, "The world is made up of 872 countries, territories, autonomous regions, enclaves, geographically separated island groups, and major states and provinces."
To go everywhere is to visit all 872 destinations.
And there's someone who's well on the way to "going everywhere". Charles A. Veley of San Francisco has visited 824 of them.
His website notes, sourly, that he has recently been "grounded", his obsessive travelling halted by "the downturn of the economy and the birth of my three children".
I haven't the heart to pass this information on to Naoki, it might set him off again. In his last email he sounded content. No mention of "Lybia".
He says: "Now I am travelling in Japan, the walking track circling Shikoku Island. I will start early April and take about 50 days."
And I'm sure he will take his fishing rod.