An island holiday can be more than lying on a beach, discovers a culturally enriched, exhilarated and exfoliated Andrew Stone.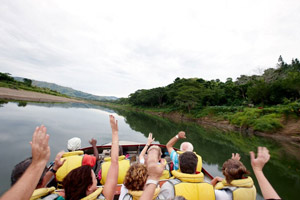 Tourists sweating after clearing customs in the tropical heat of Nadi usually head straight to the air-conditioned comforts and kidney-shaped pools of Denarau's resorts.
But for those who make the effort, a 200km journey to Suva along Fiji's famous Queens Rd reveals some of the Republic's hidden charms, and is a way to spend a short break in the tropics outside your comfort zone.
Given the light on-board rations, we need first to tank up. Though Denarau has stacks of restaurants, Fiji does not spring to mind as a gastronomic paradise. Ingredients can be limited, prime cuts are imported. Eggs benedict at $22? $7 for a coffee?
But we have to eat, and there are signs Fiji is trying to correct the dietary deficit. Ex-pat Richard Cross calls his eatery at the Radisson resort simply "Cross" but patrons leave looking happy.
The beachfront dining room looks west across Nadi Bay and Cross, who has cooked around the world, including a stint at Huka Lodge, recommends the Tiger prawn martini.
This arrives, looking sculptural and zinging with flavour. Ditto the grilled walu. Guava sorbet is served between courses, before the signature dessert arrives: kava icecream, a knowing nod to the national drink.
Pleasure and pain
Yanuca Island is connected by a short causeway to the mainland. About 65km from Nadi, it is our first stop after Denarau. It will forever remain in my mind as the place I lost my top layer of skin. The island hosts one of Fiji's best known destinations, Shangri-La's Fijian Resort. Couples tie the knot in its glistening white chapel and children learn in a small education centre how to protect and care for life on the offshore reef.
For our part, the task was to get reconditioned with a dusk to dawn spa. One of a range of treatments available at the Chi Spa, the F$1050 ($760) overnight deal involves about 14 hours of pampering, with a few hours of deep sleep in between.
First up, to relax and unwind, there's a warm bath, filled with oil softened water and covered in dark red bougainvillea petals. Half a watermelon filled with fresh grapes, oranges and pawpaw sits by the bath. Flickering candles light the room and somewhere in the wooden rafters a gecko clicks.
Thirty drowsy minutes in, a soft knock indicates round two is about to start. This is a skin polishing session, using mineral salts, citrus oil, and cardamom body lotion and coconut sugar. Designed to bring out the inner meterosexual, I guess.
But first a little exfoliation, followed by a track and trace on the industrial wastes and crunchy toxics built by years of misuse. These little islands of agony dissolve as my neck and shoulders get a workout from Mere, my accomplished therapist. This time, the gecko laughs.
A 15-minute steam bath removes what is left of the outer epidermis then it's dinner and bed. Sleep comes easily with a gentle lapping rhythm of the lagoon, just a few metres outside the bure.
The bedside phone stirs us at 6am. Mere returns, first with tropical breakfast and 30 minutes later with ingredients for the final flourish: a half-hour facial and scalp massage. Cut and polished, we return to Queens Rd and a 20-minute drive to Sigatoka.
Speed thrills
The jetboat skipper gives his name as Captain Jack Sparrow. His eyes twinkle as he lays this on his passengers, just before he steps on the gas of his noisy, twin-engined New Zealand-built craft and roars away from the Sigatoka River bank. Fifteen passengers hang on to their sunhats as the metal-hulled vessel hurtles upriver on into Fiji's damp, green interior. The Sigatoka River Safari is a five-hour round-trip, with a village visit and Captain Jack's history lessons as the trimmings.
Drowned tree limbs pass within metres of the flashing red craft. Children and adults wave from the riverbank: the safari fleet makes the trip twice a day, delivering tourists and their dollars to a cluster of subsistence villages, grateful for revenue to supplement fluctuating revenue from fruit and vegetable plots. The broad, brown river sustains and sometimes floods these communities, and must be waded or swum by children going to their local school.
Forty-five minutes upriver we reach our rostered village for three hours of cultural immersion.
The entire village assembles in a communal hall. Introductions are made and Lloyd, a retired Gold Coast builder and chief of our party, hands over a gift of yagona, or kava root. We share half-filled coconut shells of the muddy drink and get powder smeared on our faces as a mark of friendship.
Lunch is a feast of tasty chicken, fresh fish, root vegetables and fruit, eaten while we sit cross-legged on the floor. Guitars appear and we struggle back on our feet as elderly villagers teach us the snake dance and the Fijian shuffle. They farewell us with a moving version of Isa Lei.
From a village with little - there is no power, food is cooked over woodfires, light comes from kerosene lamps and cattle till the cultivated plots - there is a deep generosity of spirit.
Canopy capers
Zip Fiji is another hour along Queens Rd. The name comes from the sound created by steel rollers spinning along a wire cable carrying human cargo strapped in a harness and suspended from the wire by metal tackle: we are talking of a flying fox in the jungle.
The cable stretches between towering mature trees in a stand of native forest. To find the adrenalin ride our guide and driver Alipate has left Queens Rd and followed a muddy track to a clearing. Six fit-looking Fijians greet us, holding loops of webbing and stainless shackles. These, we are cheerfully told, will hold us securely as we swoop between platforms bolted to tree trunks about 30m off the forest floor.
As our heart rates pick up we get a driving lesson in landing on platforms 100 or so metres away and breaking your momentum so you don't get embedded in a mature Fiji kauri. All so easy it seems, until you clamber up the first metal platform and stare across a plunging valley to where the cable disappears into thick foliage.
One hundred per cent safety record, declares the instructor. The ride is exhilarating and, for a brief moment, a little scary. Foliage flashes pass as you gather momentum. There's time to glance down at a valley stream far below before your speed eases as you approach the end of the cable. An assistant waits on the platform, his strength giving reassurance that you've landed safely.
The rest of the ride is a doddle, speeding from tree to tree, switching from one cable to the next. Listen hard and you may be rewarded with the curious cacophony of the barking pigeon. You'll see startled parrots scatter as you invade their air space.
Cannibal remains
Suva, and time for a little history. We first heard about Thomas Baker from our boat guide, Jack Sparrow. Baker, an English missionary, became the last recorded person, in 1867, to have been eaten in Fiji. In the Fiji Museum there's a display on his unfortunate end.
In 2003, Nabutautau villagers apologised to Baker's descendants, hoping the ceremony would lift a curse they felt had bedevilled them since their ancestors dined out more than a century earlier.
CHECKLIST
Getting there: To check out Air New Zealand flights go to airnewzealand.co.nz.
Getting around: Hire cars are available at Nadi International Airport.
Things to do:
* Dinner bookings for Cross can be made at radissonfiji.com.
* Chi, the spa at Shangri-La's Fijian Resort, is at shangri-la.com.
* Sigatoka River Safari is at sigatokariver.com and the aerial flying fox at zip-fiji.com.
* The national museum is at fijimuseum.org.fj.
Further information: For events, accommodation and attractions see fijime.com.
Andrew Stone's trip was assisted by Tourism Fiji and Air New Zealand.