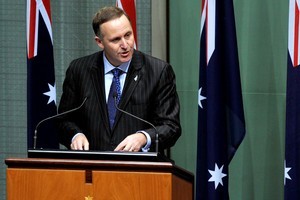 Tongan Prime Minister Lord Siale'Ataonogo Tu'ivakano arrives in New Zealand for his first visit as Prime Minister, but his programme is a mystery.
He will have talks with Prime Minister John Key, Foreign Minister Murray McCully and Defence Minister Wayne Mapp.
And he will accompany Mr Key to Auckland University on Thursday where Mr Key will give a speech ahead of the Pacific Islands Forum. Other than that, no details are available for the four-day visit.
And in a departure from traditional visits by leaders, no press conference has been built into his visit.
Tonga held its first democratic elections in November last year and Lord Tu'ivakano is the first Tongan Prime Minister to be elected by Parliament and not appointed by the King.
Among the issues he and Mr Key are likely to discuss are their respective deployments to Afghanistan.
Tonga has had 55 soldiers deployed in Helmand province since October last year.
A sensitive issue that is more the domain of Mr McCully than Mr Key is the Tonga Government's removal of former Police Commissioner and Kiwi Chris Kelley, part-way through his five-year project funded by New Zealand and Australia to reduce corruption in the Tongan Police Force.
Mr Key said he would personally thank the Prime Minister for the generosity the Government and people of Tonga showed towards Canterbury after the earthquakes that devastated the region.