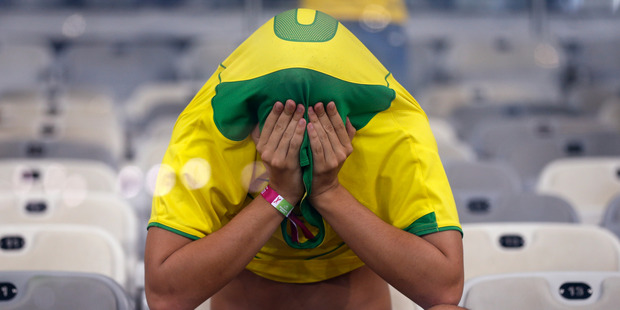 After the 1950 World Cup final, which Brazil lost 2-1 to Uruguay in Rio, the country's football was plunged into such deep despair the national team didn't play again for two years.
Who knows what will happen after this astonishing 7-1 defeat?
What unfolded today at the Estadio Mineirao stadium in Belo Horizonte is almost indescribable. 7-1!
It's hard to remember a team putting on such a woeful display in a match of this magnitude.
Sure, Germany were excellent, - but the home side gave a first half display completely lacking in spirit, poise, determination and intelligence. It was almost as if they suffered a complete emotional meltdown, suffocated by the pressure of the last four weeks. It meant the game was over by the 24th minute, when Toni Kroos scored the third German goal.
By the time the German team scored their sixth goal, the local crowd were giving their opponents a standing ovation. Later they started ironic "Ole" chants, each time the German team completed a successful pass.
"It doesn't even hurt," said a Brazilian journalist next to me at half-time. "I'm numb - this is a massacre."
None of the five first half goals scored by Germany were particularly brilliant; they worked their way into space well, but the defending was absolutely inept. Against the most complete squad at this tournament, Brazil bore absolutely no resemblance to a team; they were a scattered bunch of individuals.
Central defender Dante, replacing suspended captain Thiago Silva, was shown before the game exchanging hugs with all his Bayern Munich team mates and others from the Bundesliga. He never got that close again over the next 45 minutes.
Normally solid David Luiz lost Thomas Mueller for the first German goal, and lost all composure soon after that, while left back Marcelo was as erratic as he has been all tournament. And the two holding midfielders, Luis Gustavo and Fernandinho, were constantly out of position and gave Brazil no spine.
Meanwhile Fred, the ineffectual striker who appears to have lost all of his confidence at this tournament, bore the brunt of the crowd's anger in the second half. After a weak attempt straight at German goal keeper Manuel Neuer, almost the entire crowd started a particularly obscene chant directed at the Fluminense striker. It must be a uniquely awful feeling to have 60,000 people aiming such venom at you, in your own country.
Still credit must go to the superb German team, especially Joachim Loew and his coaching team.
They got their tactics spot on, unveiled a different line-up that what they had used for most of the tournament and exploited the Brazilian weaknesses.
You had to feel sorry for the local fans, some of whom had paid up to 5000 Reals ($2573) to ticket scalpers to attend what was meant to be the match of a lifetime.
Instead they witnessed what might come to be known as that as the Maracanazo part II; just like the pain of the 1950 loss to Uruguay at the Maracana stadium was felt for years, this one will take a long time to get over.