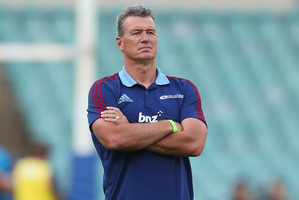 The sad business of Benji Marshall's failed code-hop has dangerously sharpened the focus on Blues coach John Kirwan, even after the encouraging win over an error-laden Waratahs.
His contract already extended to the end of 2015, Kirwan's success as Blues coach depends on the Blues' last seven games. The Marshall Experiment was a sad failure and it has brought into stark relief the Blues' record so far - played 9, won 4, lost five, points for: 234; points against: 250; 9th on a table of 15.
It is not great and another poor season for the Blues will do two things: rack up the pressure on Kirwan and make it harder to attract quality players to the franchise.
It is difficult to imagine a more engaging man than Kirwan. His double act with Marshall at their "it's over" press conference was brave and compelling.
If Kirwan and Marshall were wrong, then I have to hold up my hands, too. There seems to be an awful lot of wise people now saying things like: "It was never going to work ..." but who were suspiciously quiet at the beginning.
In August last year, after the announcement of Benji For The Blues, I wrote: "Players like Marshall have something indefinable; beyond the reach of we mere mortals. They have time, vision and the ability to sense danger and opportunities in a way that other players don't."
Turns out he didn't. Not in rugby, anyway. Some have suggested Benji had lost his athleticism but there didn't seem to be too much wrong with his athleticism when he scored that darting, dodging try against the Cheetahs. No, the real flaw in his game was mental. He didn't have the time or the vision. Maybe he would have after a full season of club and ITM Cup rugby but neither he nor the Blues had the time for that.
Class first five-eighths read a game a little like a fighter pilot with a heads-up display in the cockpit. Their vision extends long - what they can see in front of them while flying the plane. It also hones in on the close detail - readings, information from weapons systems and so forth. They have brains which process all of that and piece together a clear picture. It was plain from the haunted look on his face against the Hurricanes that Marshall's heads-up display wasn't giving him much of a heads-up.
But the problem extends further than that. It wasn't just Marshall who was awful against the Canes. The whole team looked hesitant, ineffectual, unfocused. You can't blame all of that on a misfiring 10 - as they proved on Friday night by taking advantage of the Waratahs' mistakes, inspired by Jerome Kaino.
A good coach succeeds in game plan, selection, tactical execution and man management. If he has the luxury of bountiful resources, a coach can select a squad to play the sort of game he wants; fitting them to the game plan. Kirwan hasn't had that but that alone can't excuse some of the Blues' failings.
His selection of Marshall was flawed but has been balanced somewhat by the emergence of youngster Simon Hickey. He is reminiscent of a young Aaron Cruden - talented but with deficiencies at top level in defence, kicking from hand and goalkicking. Cruden, like Hickey, was small and a target for the ball-carriers. But he fixed those problems, didn't he? Hickey will too - in time.
But the need is now. Kirwan's attempt to play horses-for-courses came a cropper against the Canes. Chris Noakes' ability to play field position with his kicking game was missed when he was injured. Hickey is now involved with the under-20s. You can better understand the carousel at 10 for the Blues when all that is made clear.
However, Kirwan's merry-go-round at first-five has made him seem weak and unsure. Many have also chosen to beat him with the Beauden Barrett club, saying that the talented Hurricanes first-five was lost to the Blues when Marshall was hired. In fact, Barrett was promised the No1 No10 spot regardless - but chose to remain in Wellington.
Attracting talent like that will only get harder if Kirwan can't lift his charges. He at least has some steel and experience in the form of Keven Mealamu, Tony Woodcock, Charlie Faumuina and Friday's heroes Kaino and Ma'a Nonu to go with the emergence of lock Patrick Tuipolutu, halfback Bryn Hall and Hickey.
Kirwan needs to show he can propel this side to heights they have attained only infrequently this season. He blamed a lack of energy against the Hurricanes; it looked more like a lack of focus, of a coherent game plan, an inability to adjust. Their away record is appalling and inexplicable.
He has clearly tried to manage his squad so the Blues have a better finish to the season than the burn-out they suffered last year after starting promisingly. Never mind what happened against the Waratahs, they now face the Reds, Chiefs (twice, home and away), table-topping Sharks, Force, Hurricanes and Crusaders.
Come through that lot well and Kirwan can continue his building work. If not, his time rebuilding the Blues could turn out to be an empty lot.