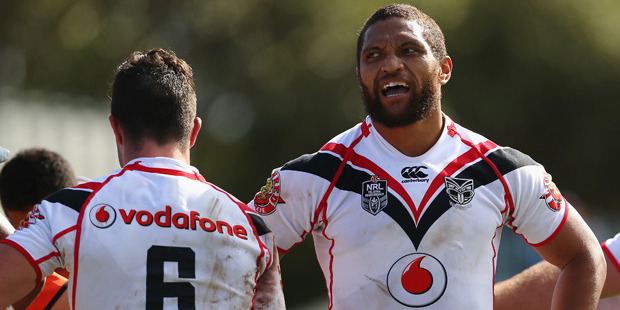 In the interests of positivity, try this.
This column is just about positive that the combined efforts - or lack of - by the Warriors and Blues reached a record low across the ditch over the weekend. Unless someone slipped valium in their high-tech drinks that can make mere mortals run forever like a superstar, then the people in charge have got serious career problems.
There's no way of proving this, but the Warriors' performance against the Cronulla Sharks was the worst ever because they were wiped out by a struggling side. The Warriors were so mistake-ridden, lethargic and excruciatingly non-threatening. It is hard to remember a poorer NRL display by any club, although South Sydney used to be really bad.
Cronulla are not very good and they had strong forwards missing including Paul Gallen. The Sharks without Gallen are like the Beatles without John and Paul and maybe even Ringo.
The TV commentators got so bored they kept a running tally on Nathan Friend's tackle count. Hey, big ups to Friend who is the bravest of little footballers. But the Warriors needed big, angry blokes in the middle slamming Cronulla jokers backwards. Watching a lightweight hooker clinging on to a procession of passing Sharks wasn't overly inspiring.
An awkward moment came when Manu Vatuvei did his skyward-point tribute to the late Sonny Fai, despite botching a try. It is time Vatuvei let go of these intermittent salutes to a lost comrade. Fai's death was an absolute tragedy, but it happened five years ago and we don't need reminders forever. It only adds to the image that the Warriors are distracted from the central, core business of running and tackling harder.
Coach Matt Elliott is struggling to deliver the super club that his owners apparently covet but he can sure talk super. Instead of admitting to acute embarrassment, Elliott pretended that "one of the things that wasn't absent was a heap of effort". He mouthed figures and percentages. He should have begged for forgiveness.
It was a heap of effort watching that garbage. Shaun Johnson, who had a very good game against the Tigers, went missing again. Feleti Mateo - a genius in his rare prime - has become a giant waste of space. Ben Matulino can't find his best ... and on it goes. And why is the dummy half runner exhausting himself with ridiculously high tackle counts.
The Blues were also dreadful against the Brumbies, who aren't star-studded and were without their terrific hooker Stephen Moore. The Blues looked tired and confused and couldn't score a try. Losing is not the problem - how they did it is. Not too long ago, rugby ranked just above pin-the-tail-on-the-donkey in the ACT, while Auckland ruled the union world. But life moves on and don't we know it.
Skills and thrillsSkill under pressure is a marvellous thing. The Chiefs had the Cheetahs on the ropes by the end of their Super 15 clash in Bloemfontein, a try almost inevitable. The hammer blow was delivered in style by Tim Nanai-Williams, with a terrific burst and step through a gap that wasn't obvious, or there at all. Scoring by the posts made the vital conversion a gimme as the Chiefs achieved an amazing comeback draw.
The on-field thinking in New Zealand rugby can be questioned, and rugby faces its problems as a spectacle, but those flashes of skill are tops. On that note, South African rugby - to my mind - has really upped its Super 15 skills in the past couple of years. It will be interesting to see if they bring more of that into the test arena.
Thin crowds kill atmosphereStatistics are getting a good going over in rugby, with regards to their value and perhaps over-use. Here's another angle - crowd figures. What really matters, spectator wise, is atmosphere not numbers. There were apparently 20,000 people at Ellis Park to watch the Crusaders and Lions. This may have been debatable, but whatever the number, the atmosphere via TV was dull with the crowd scattered in such a big stadium.
Battler Buckley deserves praiseA tribute to speedway lover and promoter Bill Buckley. There were just 9000 people at the FIM Grand Prix at Western Springs on Saturday night, meaning the opening round of the world championship almost certainly won't be back. But it was a noble attempt by Buckley, who has lost heaps on the venture.
The financial balancing act - between ticket prices, gatetaking splits etc etc - proved beyond Buckley and co. Maybe mistakes were made. But at least he gave it a crack and provided those who did go with fabulous racing and entertainment.
The lack of a world-class Kiwi rider was the major hurdle Buckley could not overcome.