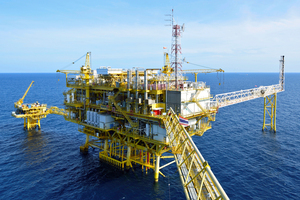 Just a year ago, the prospects for oil and gas exploration in this country looked bleak. Brazil's Petrobras had just surrendered its permit off the East Cape, citing mediocre survey results, a blow made all the more severe by the earlier decisions of Exxon Mobil and Todd Energy to withdraw from the technically challenging Great South Basin.
Additionally, innovations in fracking and horizontal drilling had paved the way for a surge in shale-gas production, especially in the United States. International explorers appeared to have little interest in New Zealand. It is particularly welcome, therefore, that Shell has announced it will drill an exploratory well in the Great South Basin.
The venture will involve an initial investment of up to $200 million. That sum represents a strong show of commitment by Shell and its joint-venture partners, OMV NZ and Mitsui E&P Australia. Their analysis of seismic data clearly suggests a degree of confidence about the prospectivity of the basin.
They are not the first to have taken that view, of course. Eight wells were drilled in the basin between 1976 and 1984. Hydrocarbons were recorded in four. But the difficulties inherent in a water depth of about 1,300m, the isolation of the area and other problems have meant all the wells were deemed to be non-commercial.
Improved technology means there is now greater prospect of a commercial strike. This progress will be evident in the actual drilling, which will be done by a semi-submersible rig or possibly a drill ship. But there is still a long way to go before the basin bears any resemblance to its much-touted image as the next Taranaki. A successful Shell test well within two years would have to be followed by a network of appraisal wells before commercial production could be considered. That could take a decade. Shell considers a large-scale oil find a remote possibility, and says a Maui-size reserve of gas would be necessary for commercial production. Most likely, the gas would be converted to LNG and exported to Asia.
Shell's decision is important for several reasons. New Zealand, as much as the explorer, needs to know the extent of its oil and gas resources. Even Taranaki has been explored only moderately. The Great South Basin is an important part of this puzzle, and Shell's exploration will, hopefully, act as a spur to Woodside Petroleum, which, with New Zealand Oil and Gas, was last month granted a licence in the same region.
A commercial discovery would significantly ratchet up the benefit for both the country and the Otago-Southland area. The Government would receive royalty and tax income, while the southernmost part of the country would prosper from the creation of many employment opportunities. As the Petroleum Exploration and Production Association has pointed out, the ongoing prosperity of Taranaki provides ready evidence of such benefits.
This will not, of course, convince those who protested against Petrobras' activities and are now subjecting Anadarko's exploratory drilling off Raglan to much the same treatment. There will, indeed, be some risk in exploring in the turbulent waters of the Great South Basin. But the possible rewards far outweigh these. New Zealand cannot afford to overlook oil and gas riches. Subject only to appropriate environmental protection, it should relish this show of confidence by a major exploration company.
Shell's decision comes at a time when sky-high forecasts for shale-gas production are being reined in somewhat. Hopefully, this will also encourage a greater interest in this country's prospectivity. There could be no better way to enhance that process than the successful exploration of a place so potentially rich as the Great South Basin.