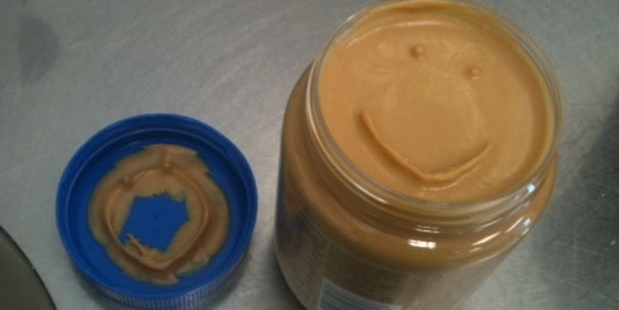 A wonderfully wry "Munted Trampoline" for sale on Trade Me ... Here's what you get: "This trampoline is around 30 years old. Like all good Kiwi trampolines, it has no safety pads and a missing spring. When you bounce on it, it sometimes seems like the bounce mat is so worn you might bounce right through. There is also quite a lot of bird faeces on one end of the mat. Salmonella risk - do not lick. (The frame is sound). Several generations of children have done it tough on this trampoline and none have broken any bones or lost any teeth. Yet. Let your child be the first. Pick up only in Hillcrest, Hamilton. Free bag of sweet navel oranges (pick your own) to the winner of this very competitive auction."
Woof! Smells like teen spirit
A springer spaniel named Tutta has been checking the ID of suspected underage customers who try to buy booze in the Norwegian state-run liquor store Vinmonopolet. Tutta's sensitive nose is able to detect if teenagers are underage or using ID that is someone else's or fake when trying to buy alcohol.
People who are nervous will secrete substances into the skin that the dog can smell.
Who would have believed?
Helping rid the world of malaria and setting up Germany's first pie restaurant is just some of the hyperbole in Luigi Wewege's CV. Here are the 10 best tweets suggesting what other grand accomplishments might be included ...
1. Adviser and confidant to Mark Zuckerberg, donated his 10 per cent shareholding in Facebook to charity.
2. Instrumental in getting SBW to sign a second season with the Roosters.
3. Fixed up some "slow" bits in The Luminaries.
4. Owned Auckland's best fish and chip shop 2002.
5. Advised Hone Heke on the Treaty of Waitangi.
6. Has dated both Sally and Jaime Ridge.
7. Told Lorde she'd never be royal.
8. Gave the Dalai Lama tummy rubs to aid his digestion.
9. Is the only person to have turned down TVNZ's Good Sorts ... three times.
10. Member of the "Tissue Engineering and Regenerative Medicine International Society". (Oh, that really is on his CV)
(Source: Twitter.com #wewegecv)
Left waiting on the line in the 1970s
Fiona Downes of Castor Bay writes: "When we moved to a North Shore suburb in 1970, the waiting list for a landline phone was 15 months. Fortunately, both of us were working at that stage so we made our important phone calls during the week at work. If we wanted to phone anyone at the weekend, we had to use the public phone box at the local shopping centre. Later, a friend told me that if you were pregnant and got a doctor's certificate to confirm this, you got priority, which took six months off the waiting time. The suburb? Forrest Hill."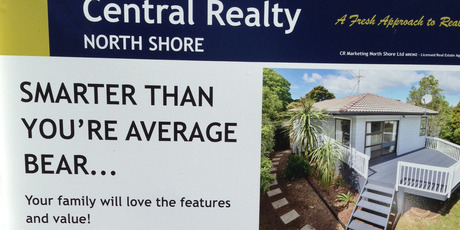 Video: Watch as these three dropkicks destroy a 200 million years old rock formation in Utah...
Marketing atrocities: If you get irate at Real Estate signs littering the roadside, then look away now... Sign spinners are those poor employees who are out on the footpath thrusting their pizza/cheap flower deal at the peak traffic. Now in the US they are being replaced by Sign Waving Mannequins ...
Picture this: Nice camouflage...
News: Halloween display with disembowelled corpse frightening children...
Video: Batdad is genius...
Got a Sideswipe? Send your pictures, links and anecdotes to Ana at ana.samways@nzherald.co.nz