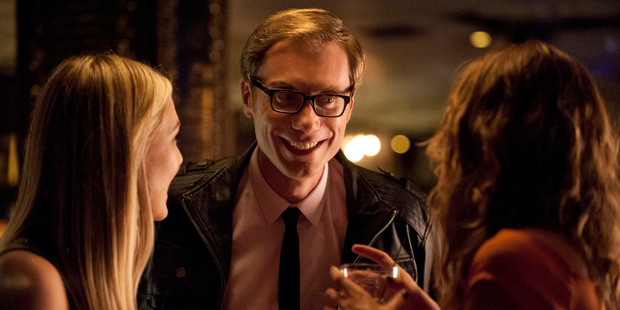 The country is going digital, a technical term for watching TV through your fingers. First, there was a certain nautical sporting event. Then the tense Breaking Bad finale. Now there's Hello Ladies, (8.30pm, Thursdays, SoHo), the new sitcom from that tall bloke from The Office and Extras.
It's hard to watch - in a good way. As we've seen from the Ricky Gervais sitcoms he co-wrote (and appeared in), and the rom-com I Give it a Year (in which he gives the best "worst best man speech" of all time), Stephen Merchant plays what you'd imagine is an exaggerated Stephen Merchant, who is so cringeworthy I watched most of the show in super-high def digital. The same character, in other words.
He's excellent at being awkward of course. As the pale, ungainly wannabe living in a town known for its tanned, beachy beauty, he's nonetheless desperate to convince his LA acquaintances of his Casanova talents.
The premise is simple but it works, most of the time. In the promising first episode, he packed his "groin cloths" (condoms) into his shirt pocket, cranked up the Cypress Hill and drove to a new club with his screwball buddies, after a pretty young actress mentioned she'd be there. They looked as cool as the Entourage crew until one of them opened the car door straight on to the kerb.
Inside was no better as he crashed through the expensive round of drinks he'd just talked himself into buying, landing in front of the woman he'd hoped to impress while shouting an inane line about masturbation.
It was laugh-out-loud funny. But you get the sense Merchant and HBO may have compromised on the tone. Much of it feels like your typical US sitcom. Enter the buddy antagonists: his cuckolded mate Wade, who's too depressed to play wingman, the outlandish Kives, who uses his disability to pull women, and flatmate Jessica who, in a parody of ambitious Hollywood nobodies, is auditioning actors for her lofty-sounding web series (aka a blog).
But like Flight of the Conchords, the fish-out-of-water context has worked well for HBO.
The difference here is that Nemo has no idea he doesn't belong.
There's also a familiar air to A Place to Call Home, (9pm, Sundays, TV One) the Downunder Downton Abbey, set in the post-World War II years of the 1950s, much of it in a sprawling mansion, where secrets lurk and hidden agendas reign. It's an Aussie production, but you could even call it elegant. In particular, leading lady Marta Dusseldorp, who plays the mysterious Nurse Sarah Adams with composure and compassion. This is buttoned-up melodrama, the first episode featuring a death, a suicide attempt and a failed reunion between Sarah, now Jewish, and her estranged Catholic mother.
"Come with me now!" said her mum, grasping her daughter's hands.
"I can't!"
"Then go!"
Still, it's not devoid of wit. The show has many strong characters requiring serious acting muscle - as the matriarch who doesn't want Adams there, Noni Hazlehurst's cheek literally twitched to convey a lie; Underbelly's Arianwen Parkes-Lockwood also stars alongside Kiwi Craig Hall as Dr Jack and one very talented canine as Sarah's potential best friend.
Creator and writer Bevan Lee delivers clever story-telling as the scenes flit between present and past, and cracking dialogue.
"How will I know if you've done a good job?" asked Jack as his prospective employee nurse insisted on treating a rifle-wielding bloke unsupervised. "You won't hear a gunshot," she replied.