Blogger Paul Casserly finds some movies hard to resist when they get re-screened on TV.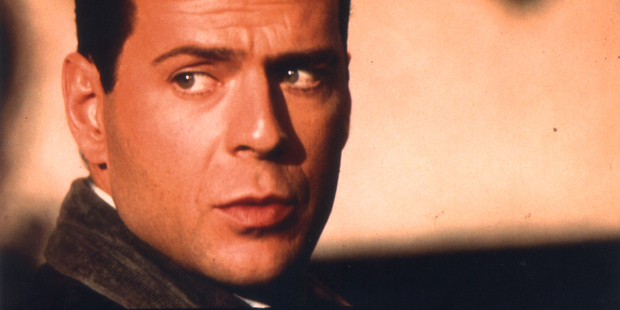 There are certain movies that I find hard to resist if they turn up again on TV.
This crossed my mind the other night when Die Hard played out on TV3. The opening scene drew me in and for a while I wondered if I would be hooked.
The first thing that comes to mind is the passing of time. Bruce Willis not only had hair, but he's travelling on a plane with a loaded handgun and the first thing he does when he lands is light a ciggie. Ah, the good old days.
The other thing you notice is how many subsequent action movies have this thing in their DNA. There's also a moment I'd forgotten, a brief yet steamy encounter between officer John McClane (Bruce) and an 'up for it' air hostess as they pass in the aisle. It reminded me how cheesy this film is. How overblown. How terrific.
But good as it is, Die Hard does not make that list of movies that I can't turn off.
Naturally this made me think of the ones that I really have trouble with.
Movies on TV are different to DVDs or downloads. There's something about them being on at that very moment you sit down to watch. I'm not sure what this is. Possibly we are the last generation who will understand the emotional tug of films on TV in real time.

I came up with a list of five movies that seem to pop up on TV on a regular basis that I am all but powerless to resist.
Goodfellas (1990)
The ultimate mafia film.
This is possibly the film I have most trouble with. It's just so freakin' good and rewards repeat viewings like no other. There are so many great scenes: The dreamy (one shot) entrance into the nightclub. The meal with Tommy's (Joe Pesci) mum where they talk about the painting of the man and the two dogs. Tommy's mum was played by Scorsese's own mum. And what about the awesome Italian cooking session in prison? It's also a reminder of where The Sopranos really comes from, including much of its cast. And how about that cast? How good were Ray Liota, Robert De Niro and Lorraine Bacco? And what about that electrically psycho performance from Joe Pesci? I could watch it another 50 times before I die.
RoboCop (1987)
Comic book satire with a touch of ultra-violence.
The sequels have been so bad that it's easy to forget the masterpiece that the original Paul Verhoeven film was. Don't think of it so much as a sci-fi splatter flick, rather a high concept satire. It also has some of the best bad guys in movie history. Best of all it's bloody funny with many memorable lines. "Your move, creep." "I'll buy that for a dollar." And "Do you mind if I zip this up?" It also had the best fictional car of all time, the "6000 SUX" which looks a lot like the Homermobile. Perfect if you want "something with reclining leather seats, that goes really fast and gets really s****y gas mileage!" Against my better judgement I'm looking forward to the latest reboot, which stars Holder from The Killing in the lead role. But it can never be as good as the original.
Fargo (1996)
A grimly comedic crime thriller.
A heavily pregnant police chief as the hero? Utterly brilliant. Joel and Ethan Coen have made some great movies but I can't see them ever making one better than this. It also marked career-defining performances from Frances McDormand, in the lead as Marge Gunderson, and co-stars William H Macy and Steve Buscemi.
And who can forget the fantastically pathetic Mike Yanagita? This is currently being turned into a 10-part TV series with the Coens at the helm and with Billy Bob Thornton set to star as a "rootless, manipulative man who meets a small town insurance salesman and sets him on a path of destruction." But there will be no reprise of the Marge character. As for the original, Roger Ebert correctly describes it "just about perfect" in this Siskel and Ebert review. Will I keep watching it even though I've seen it 20 times? Oh yay, darn tooting etc
The Castle (1997)
Australian working class comedy or is it a documentary?
Rob Sitch's film hit the nail so squarely on the head did it not? How charming. How funny. How utterly Australasian. At heart it's a celebration of suburban life in all its tatty glory. Also, I really like rissoles. Not enough movies feature them. Sadly when the film screened in the states the word "rissole" was replaced with "meatloaf" which is not the same thing by a long chalk. Favourite lines. "That's going straight to the pool room." "Tell him he's dreamin'." And of course,"It's the vibe of thing."
Watchmen (2009)
Graphic novel super anti-hero epic.
I'd somehow missed the graphic novels that seemed to consume so many of my friends but I really loved this film. I realised this about the third time I saw it.
Reviews are mixed but I swear there are some moments in this thing that are as good as anything. Much of this is probably due to the genius of the source material, the novels by Alan Moore with drawings by Dave Gibbons. I'm probably drawn by the mid 80's cold war era setting as this coincided with my childhood.
Back then we literally had nightmares about missiles and nuclear winters. Today the Superhero has terrorists to deal with. 300 may be director Zack Snyder's most iconic film but for me Watchmen is, despite its flaws, (40 minutes too long?) is one of the most stylish pop culture epics to grace our screens.
* What movies can't you tear yourself away from?