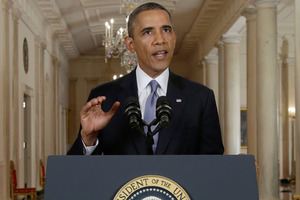 Russian President Vladimir Putin said, apparently with a straight face, it would be hard to negotiate a handover of chemical weapons when Syria is under threat of attack. If there is one thing in this wretched conflict that is perfectly clear to all the world, it is that the regime of Bashar al-Assad would not be discussing a handover of its chemical arsenal were it not for the United States' threat to attack.
Syria's acceptance of Russia's proposal to place the weapons under international control to be dismantled is the first hopeful sign of a way out of the moral dilemma facing democracies everywhere. No sensible Government is anxious to enter this complicated civil war, public opinion recoils at the prospect of repeating recent experience in Iraq and Afghanistan. Yet every responsible human instinct says the use of chemical weapons should not go unpunished.
President Barack Obama responded carefully yesterday to Mr Putin's request. In a televised address, Mr Obama asked his Congress to postpone its consideration of an attack while "this window" is open.
But he has ordered his military to maintain the pressure on Syria and made it clear that if the negotiations fail he favours a targeted strike.
Normally this decision is left to leaders, who will be criticised no matter what they do. When they choose deadly force the condemnation is particularly fierce from political parties and public opinion that consider themselves to be on the side of compassion and peace.
Labour and Liberal Democrat parties won a rare victory in the British House of Commons last month when they voted down the Government's wish to support a possible US strike. Prime Minister David Cameron accepted the result immediately and unreservedly, which confronted his opposition with the full implications of their decision. They had decided chemical weapons would go unpunished.
Then, some of them did what people often do when they let the guilty go unpunished, they tried to spread the blame. They argued Western Governments that allowed possible weapons components to be supplied to Syria were also guilty for the agony and death in Damascus. On that principle, a murderer should go unpunished unless the gun merchant is also in the dock.
The vote at Westminster was followed by President Obama's decision to refer the dilemma to his legislature. The senators and representatives have had a recess to hear American public opinion, which seems averse to any action that would risk another entanglement in the Middle East. Yet until the President asked Congress to defer the question yesterday, it was expected they would have to approve an attack.
Republicans would not want the US to appear weak, Democrats would not want the President to appear weak. He was able to suspend the threat of force yesterday from a position of strength. Russia and its Syrian ally would not be willing to give up the weapons if they doubted American resolve.
If a complete handover can be agreed and credibly carried out, it should satisfy all concerns. It might not amount to punishment for the use of sarin gas in a Damascus suburb on August 21 but it would reinforce the abhorrence with which chemical weapons are regarded internationally.
A handover would not hurt the Syrian regime as much as a retaliatory strike might, but the opponents of military action are right that a strike could do unintended harm too. It would need to be precisely targeted and, to the extent that it succeeded, it risked assisting factions among the rebels no Western country would want to see in power. This is the dilemma and it would be a relief if a weapons surrender offers a way out.