Residents on round-the-clock flightpath lose sleep, sanity and their hearing, writes Kevin Kevany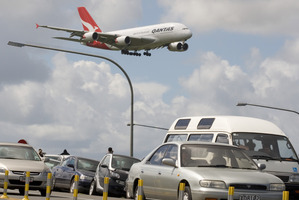 Triple revenue? Double profits? Or your hearing and sanity?
As thoughts turn to summer and the prospect of being outside of an evening, enjoying a family BBQ and the warm night air filled with the sound of a breeze in the trees, children playing and the call of a morepork or a tui's babble - prepare to feel like an extra on the set of the bombing of Pearl Harbour.
The once precious sky above our Auckland homes has been taken over and, in turn, passed on to greedy aircraft operators of every description, to do with it what pleases them best - and to hell with the rest.
Ironically, the perpetrators are as elusive as the morepork.
The mayor, Mr Liveable himself says it isn't his fault, but he does know about a meeting of the Aircraft Noise Community Consultative Group in October last year. That's because he sent at least one representative along. No one else knows anything.
Auckland Airport is mainly concerned with its share price and says nothing. Email inquiries are simply ignored and the answerphone is more efficient than a secretary in protecting elusive executives these days. It doesn't have to lie about whereabouts; it just takes a message.
There is a front organisation, Smart Approaches, which also provides a message-taking function for an SOE called Airways Corporation, which effectively is, in turn, a message-taker, and the organisation directly responsible for what is disturbing our sleep, sanity and hearing - aural pollution, a bigger threat than the more established tangible environmental threats, in the ears of those affected.
Be warned: we are all part of an experiment - or as Airways, the AIA, Air NZ etc would put it - "a world-first collaborative, integrated flow and arrival management system", which along with their German partners in this low-profile venture, Barco Orthogon, to test its safety, but mostly its ability to save airlines "millions of dollars".
How about that for a goal in life?
Its acceptance by the taxpayers and ratepayers of Auckland is not really an issue since they largely deal with sultanates, dictatorships and one-party states.
You see, since the new man arrived to head up Airways, they have gigantic plans and soaring greed in mind. Try this from their annual report: "On July 1, 2012 the new Airways began its journey to triple revenue, double profit and employ an additional 200 people by 2020 ... by new business developments in markets like the Middle East, Asia and South Africa." If that doesn't cause a giant spasm in your ears, you'll not be pleased to know that those other organisations - not necessarily with the health and safety of Auckland residents as their priority - are the ones choosing the routes, altitudes and times that are most profitable for them, their shareholders and, of course, their ever-modest profits.
Which would go some way to explaining why an airport that claims to operate between 7am and 10pm is accepting and discharging air hoons into our sky 24/7 - at times, altitudes and routes saving them the most avgas - in search of the (un)holy grail of greed. Oh, and of course ("green-wash alert"), they are very committed, they say, to all the usual conforming carbon cant, to justify their stealing our right to quiet and sleep. Too bad; the numbers don't support that.
Naturally, the Airways head office is safely out of hearing range, in Wellington. You'd never know it, but the company is quietly led by the 2003 Marketer of the Year, Ed Sims. And he certainly isn't as upfront with Smart Approaches as he was with the sleeper-couch he introduced when at Air NZ. With hindsight, that also looked better in presentation than it ever did in reality. Omen?
His Airways board includes a recruiter, a marketer, the boss of a corporate jet hire company, an accountant, the inevitable lawyer, oh and an aeronautical engineer.
Airways NZ, as recently as May this year, added a director who gives his address as being in Mt Eden. You have to wonder whether Grant Kemble will be attending what is billed as "a public meeting with the Auckland Airport at the Baptist Church Hall, Royal Oak this Thursday evening", to enthuse all his neighbours about the "millions of dollars" he and his mates have saved the hard-pressed airlines?
Then again, he might just stay home and see what progress has been made by the double-glazer his sleep-deprived family hired earlier in the week.
• Kevin Kevany is a hearing-impaired, experienced Auckland-based freelance writer, concerned with individual freedoms, who has worked in a number of countries.
Dialogue: Contributions are welcome and should be 600-800 words. Send your submission to dialogue@nzherald.co.nz. Text may be edited and used in digital formats as well as on paper.