Why is it we're all suckers for a well crafted story - told in rhyme?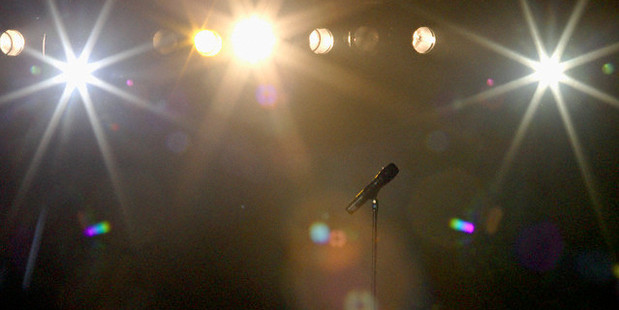 Some of us are stuck with the idea that the only valid type of song lyric is a narrative ballad. And once you've taken that one on board it's a hard thing to shake. In reality, lyrics do not HAVE to tell stories at all - nor do anything else for that matter - for songs are fully entitled to do little more than express emotion.
But just knowing this does not help narrative-obsessed types like me.
In my case, Mr Taylor did the damage, at Devon Intermediate back in 1960s New Plymouth, though arguably just waking up something already there.
Like a lot of schoolteachers of his era, Mr Taylor loved long story-telling poems from the Victorian era, only with him this manifested at an extraordinary level of intensity. Taylor was no fool, he knew he had to at least make a show of teaching maths, English, social studies and so forth, but that was not his true agenda, not his raison d'être. Once he'd sat us down and opened up his old poetry books, we'd see a glint of the eye, and the man began to download to our young impressionable minds his epic tales, packaged in lengthy rhythmic rhyme.
Cut to Robert Southey's Inchcape Rock, the best we learned, a stunning ballad about a Scottish pirate who gets his comeuppance after chopping down an ancient marine beacon. This one served up the primitive pleasure of a good story, with a rhyme at the end of each line, and satisfied the 12-year-old sense of justice.
Taylor's repertoire included The Highwayman, by Alfred Noyes, 1880, William Cowper's Diverting History of John Gilpin from 1782; The Jackdaw of Rheims, by Richard Harris Barham (circa 1837), and many others.
He cunningly fed us 100 to 200-year-old poems, works quite arcane through to eminently catchy, which we picked up in the mysterious way children can and do.
This material was just part of a continuum of popular rhyming ballads stretching back to the wandering minstrels and beyond. It made us love stories which rhyme.
I have since learned that Taylor's low-brow people's choice rhymes were all published in best-selling books of English verse. These got packed into boxes in the old country and carted as sailing ship cargo by emigrating Anglos, to the Americas, India, Southern Africa and the Antipodes. (The Aussies best perpetuated the genre with bush ballads from the likes of their Henry Lawson and Banjo Patterson). And as I see it, when members of the great white diaspora were not to be found out and about, wresting land off the indigenous people, they would be home in their log cabins - reading rhyming ballads to one another. Easy-to-achieve low-tech entertainment, this.
Of course, the delivery systems changed with time; people got rich enough to buy pianos, so they didn't have to merely recite ballads, they could set them to music and sing them. Then phonographs came along, radios, TVs, and eventually all the modern gadgets of today.
But I reckon the English-speaking world still has its DNA irrevocably stamped with a love of well-crafted rhyming stories.
I don't care if they're classics, raps or country songs, in my view, really great rhyming ballads are so compelling and catchy we should watch them around young kids.
Take it from me - you don't want your little Johnny to develop a habbit like this one:
At the gas station forecourt the attendant will be signalling and the cars backing up. But my windows are all wound up, the radio is up load and I'm not budging.
The First Editon's inimitable Ruby has started, with lyrics like:
She's leaving now cause I just heard the slamming of the door
The way I know I've heard it slamming some 100 times before
And if I could move I'd get my gun and put her in the ground
Oh Ruby - Don't take your love to town
(I know the story well, but like an idiot I must always wait for the cliff-hanger ending, just in case the hard-hearted trollop married to the helpless war veteran really does decide to TURN AROUND).
Or, it's a birthday outing, with the whole family sparking well as we joyfully head for the restaurant.
All except me. I'm irritable and just about tearing-up as Janis Ian's weird breathy song At Seventeen, grinds out of the car radio, as follows:
To those of us who knew the pain
Of Valentines that never came
And those whose names were never called
When choosing sides for basketball
. . . Ugh!
Or, I'm expected at a car yard in Greenlane to discuss some marketing for a new car yard. Suited and festooned with gold cufflinks and tie pins, the car sales guys are pacing up and down and looking at their watches. But I'm circling round the block, because A Boy Named Sue, which has 10 verses packed fore-and-aft with the hollering San Quentin inmates, is on the car radio and I'm just not prepared to miss lines like:
At an old saloon on a street of mud, there at a table, dealing stud
Sat the dirty, mangy dog that named me 'Sue' . . .
He was big and bent and gray and old
And I looked at him and my blood ran cold
And I said: "My name is 'Sue!'
How do you do!
Now you're gonna die!
It's clear to me that that ballads this good are really dangerous and disruptive things.
Some day I'll contact other former pupils of Mr Taylor, just see if anyone else is having this kind of trouble with them.
Maybe we'll launch a class action, meanwhile, if you're tortured by an impossibly catchy narrative ballad, here's a safe place to share it: