Brendon Green is at the Edinburgh Fringe Festival with his fellow FanFiction Comedy members in the hope the British think Kiwis are funny. He's been blogging about his experiences for nzherald.co.nz.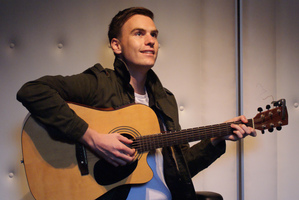 And Fin. The screen cuts to black. In fancy, French-styled calligraphy, the name of the movie appears: Brendon Green In Edinburgh - A Tale Of Comedy Shows, Bratwursts, and A Man Chasing A Dream.
That's a way too long name for a movie, but you get the idea.
The festival is over, and the deconstruction has started disturbingly quickly. No time for a fond farewell, just a damp clump of dead grass where once your venue stood. Goodbye George Square Box, you will be missed.
FanFiction Comedy came, was seen, and conquered. (Conquered = didn't fail, and generated more than enough interest to come back next year). We more than held our own among the sea of contenders, the little Kiwi show that could taking on thousands of international creative forces.
This is just the first round, but I think we won it.
To send us off in style, I thought I would write a short Fan Fiction story of Edinburgh itself. Because I am indeed a fan of this city, and you should probably get a taste of what it is we've been performing over here...
Edinburgh? I Hardly knew her!
By Brendon Green
The tall, Michael Fassbender-ish looking New Zealand man stands, heart aching, in front of the Greggs Bakery. His long limbs laying limp by his side, legs in an almost-squat position, his body broken from exhaustion. As tears start to form in his Blue from Blues Clues coloured eyes, he hears a voice from behind.
Spinning around like the world's least effective tornado, the Kiwi finds himself face to face with Edinburgh. A wisened and handsome man, snow-white hair lightly dusting the sides of an otherwise wrinkled bald head, powerful jaw clenched in an authoritative smile, a twinkle in his eye. The city personified.
"Brendon, it'sh going to be okay. The feshtival is finishhed, but it will live on inshide you, in your shoul." Sean Connery says, his voice like a horse troweling fertile soil ready to plant sexy-berries.
"But Edinburgh, did I do okay? Did I do it right?" Brendon says, his voice quivering with uncertainty and leftover bratwurst.
"Yesh you did, child." Sean Connery/Edinburgh intones reassuringly. "Here, let'sh take a look back at shome memoriesh."
All of a sudden a montage begins! Rotating newspapers fly out of nowhere, headlines blaring the highlights of the past month.
"Kiwis Take Edinburgh By Storm!" "5 Stars For Young Stars" "FanFiction Is A Real Thing, You Can Stop Laughing At Me Now, Mum."
Time dissolves like jelly crystals in a teapot, scenes materialising over each other like a drunkenly shuffled deck of cards.
A packed audience looks on, crackling with laughter, as Nick Gibb and Steven Boyce argue about which Disney Characters would survive in The Hunger Games (Spoiler: it's not Pumba. Pumba gets messed up).
Heidi O'Loughlin stands in the rain, coat pulled over her damp head, smile plastered in place, hands stretched out grasping a flyer. Punters pass petulantly by, until one kind soul takes the rectangular baton from our fearless leader.
Tom Furniss sits on a couch, all eyes on him, as he finally completes the Pottermore Sorting Hat Quiz. He's a bloody Slytherin! The only one in the group! Of course he is, look at him, he's got black hair, dark eyes, and his name is Tom. The group resolves to keep a close eye on him.
Billy Connolly walks past the group and doesn't take a flyer.
Joseph Moore struts around the city reciting his jokes in the voice of Hannibal Buress. He resolves to do all of his jokes from now on in the voice of Hannibal Buress.
Edith Poor eats an egg, breaking her veganism in the name of having actual energy to do things.
Ruby "The Tech" Reihana-Wilson holds everything together with her bare hands.
The world fades to black, dramatically pausing for a second, before the final scene appears. A tired group of New Zealanders stand atop Arthurs Seat, the highest point in Edinburgh. It's 6am. They have been out all night as it was the last day of the festival.
Arm in arm they survey the majestic panorama before them, stone houses, sweeping meadows, and Hogwarts replicas populating the landscape like a really good game of Sim City.
Then, as the sun cracks the horizon, sending shimmering golden beams of heavenly halos across the perfectly clouded sky, the New Zealanders start to sing an unholy bastardised mash-up of Crowded House, Pokarekare Ana, and The Cantina Band Theme from Star Wars. It's the worst way to greet perfection ever.
"So you shee, Shon." Edinburgh Connery places his surprisingly well-moisturised hand on Brendon's shoulder, "You did it ash good ash anyone could do it."
Brendon stands up taller, happier, satisfied.
"Now go shpend six daysh in Portugal before heading home back to your real life."
Sean Connery/Edinburgh smiles brightly, winks, and disappears in a puff of smoke.
Brendon swipes the smoky air away, revealing a perfect view of the Castle on the Hill. Its magnificent stateliness radiates grandeur, seemingly washing the city with brilliance and gravitas. And right then, Brendon knows that this has been a good month.
This has been a very good month indeed.
The End.