Asylum seekers are already being put off as leaders try to outdo each other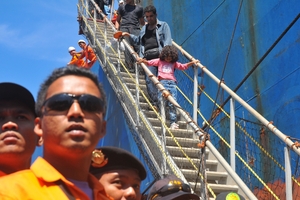 On the Indonesian islands that harbour thousands of desperate people seeking asylum in Australia, word is getting out: An election year is a bad time to be boarding boats for the voyage across the Indian Ocean.
Intelligence provided to Immigration Minister Tony Burke reports that the raft of increasingly harsh measures introduced to deter the boats has prompted asylum seekers to look elsewhere, refuse to board boats bound for Australia, and to demand their money back from people smugglers.
People smugglers, Burke said, were running out of customers.
Not good enough, his rivals claim. Yesterday, Opposition leader Tony Abbott was cracking a new, meaner whip, promising that about 32,000 asylum seekers already in the country will forever be denied permanent residency.
Arrivals refused refugee status will have no appeal to the courts. Those who are accepted would be placed in an indefinite work-for-the-dole scheme.
Government policy already bans any boat arrival from ever settling in Australia.
In an ever-expanding display of political testosterone, Australia's major parties are trying to out-muscle each other on an issue of considerable concern to voters, especially in crucial areas such as Sydney's west.
It is not an election-decider by itself, but generally ranks in the top 10 priorities, with a potentially heavy weighting in the package of issues that will decide which way ballots will be cast on September 7.
The generosity that greeted the first boat people after the Vietnam war has evaporated with the new global pressures of mass population displacement that have greatly increased the number of refugees looking for a home around the world.
Australia has always felt vulnerable and has never lost its suspicion, even fear, of countries to the northeast. This year's Lowy Institute poll, for example, found that Australians remain "lukewarm" about Indonesia and that more than half saw their closest neighbour as a military threat.
Less than one-third believe Indonesia is helping Australia combat people smuggling.
The first big backlash to a rising number of boat arrivals came in 1992, when former Labor Prime Minister Paul Keating introduced mandatory detention and built remote camps to house asylum seekers.
His successor, Liberal John Howard, cemented determination to stop the boats with policies culminating in the Pacific Solution - sending asylum seekers to Nauru and Papua New Guinea - matched with other tough measures, including denial of access to the Australian legal system.
Labor relented for a while after Kevin Rudd won the 2007 election, but under Julia Gillard reintroduced most of Howard's measures and added a few of its own. The Government has also recently added to the broader demonisation of asylum seekers by casting many as "economic refugees".
Through all this the rate of asylum seekers arriving by boat granted refugee status has run at about 90 per cent, and total numbers remain relatively small. Almost as many arrive by air and, despite a far higher rate of rejection as refugees, are not subject to mandatory detention or similar measures taken against boat arrivals.
The policy of mandatory detention and conditions on the island camps have been attacked by the Humans Rights Commissioner, the United Nations, churches, aid agencies, lawyers, and refugee and human rights advocates. A large majority of Australians also support the nation's humanitarian programme.
But driven by misperceptions, daily media headlines and political hyperbole, the boats from Indonesia are seen as a threat to the nation and its way of life. Stopping the boats has become urgent fare for both parties, each trying to out-muscle the other.
Polling provides the incentive. A large majority of voters are worried by the boats and most support mandatory detention, offshore processing and the camps on Nauru and Papua New Guinea. Most do not support the right of boat arrivals to seek permanent residency.
Only the Greens recoil at the battle to be the hardest on asylum seekers. Leader Christine Milne told Fairfax media: "Both parties are moving so far to the right, it's difficult to imagine the next level of cruelty they could possibly engage in. They are bringing shame on Australia in a national and global sense."
There has been some leakage from Labor to the Greens because of Government policy, and support for the third party could have strengthened, but it is a voice in the wilderness.
The major players want to capitalise on voter concerns. Labor's series of measures has closed the gap with the Opposition on the issue, prompting yesterday's ante-upping policy from Abbott.
Whoever wins the election, asylum seekers will be the big losers.