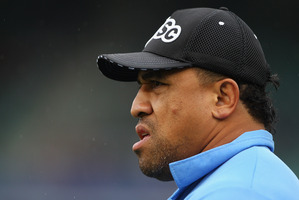 John Hopoate put out a fairly bizarre video this week, while playing croquet, criticising the NRL for turning players into a "bunch of pansies" for taking things like shoulder charges and punches out of the game.
"It's a man's sport," he said, "and you should get charged for not throwing a punch."
Hoppa is living in a bygone era when the biff was welcomed and enjoyed.
One of the things people looked forward to the most about State of Origin in the 1980s and 1990s was the fisticuffs but, thankfully, we've moved on from that.
I think the NRL is doing a good job trying to clean up the sport and make it more appealing to a wider audience. League is competing with a raft of other sports and entertainment activities to attract kids and parents on the borderline of choosing between rugby or league are more likely to be turned off league if it's seen as a sport for thugs.
It's a different world now and the NRL has to think about the bigger picture - the future.
It doesn't mean it has got everything right when it comes to rules and regulations.
I like the changes to the 20m restart and reducing the time allowed to set a scrum (30 seconds) and goal-line dropout (40 seconds down to 30 seconds) which have sped the game up.
I would like to see further adjustment to the scrum laws, which would keep players in scrums for longer.
At present, they break away too quickly - a bit like what happens in rugby - and it gives backlines little chance to put a set-piece move together.
We have seen on a few occasions this season how effective a backline move can be with tries from scrums when they have a bit of time and space but most defences can adjust too quickly and limit what the likes of Michael Jennings, Shaun Johnson and Sonny Bill Williams can do when taking on a line.
I also think golden point should be dropped. Teams deserve to walk off with a point if there's a draw and the extra time in golden point is invariably boring as sides continuously set up for a dropped goal.
Sinbinning is an area that needs to be utilised more, especially around professional fouls. Defences are so organised and players so fit they can adjust really quickly and if there's no deterrent to committing a professional foul players will continue to transgress.
It's a smart play but totally disadvantages the attacking team.
Referees need to get tough and take action and put players in the bin for 10 minutes and they also need to do it for foul play rather than rely on putting a player on report.
Momentum is huge in league these days and teams can pile on points in clusters and sides will soon learn they can't afford to be down to 12 men.
The Warriors knew all about momentum the last time they played Penrith, being on the wrong end of a 62-6 hiding, and memories of that will motivate them on Sunday when they take on the Panthers.
They never want to go down that road again so should come out firing on Sunday.
It's a huge game and carries so much importance for their playoffs chances.
They simply have to win.