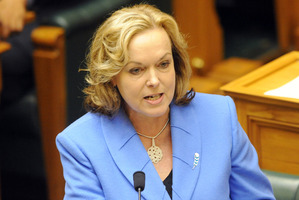 Does anyone but Police Minister turned Justice Minister Judith Collins remain convinced Teina Pora raped and killed Susan Burdett? Even veteran police cheerleader Greg O'Connor is calling for an independent inquiry, confessing to my colleague Phil Taylor in the Weekend Herald there was "significant disquiet among police" that a miscarriage of justice had occurred.
The Police Association president admitting the police have been wrong for the past 23 years is like the Pope publicly confessing the Vatican has for years been hiding evidence that God is dead.
Despite DNA evidence that puts serial rapist, and lone operator, Malcolm Rewa, not Pora, at the scene of the crime, Ms Collins is adopting the same do-nothing approach of her predecessors, full of a misguided faith that our ancient and glorious British justice system will eventually right any wrongs.
So it's next stop the Privy Council in London - that's if Ms Collins' colleague, Attorney-General Christopher Finlayson, will part with the legal-aid funds. This after a retrial in 2000 and a subsequent Court of Appeal hearing, both of which upheld the decision of the original 1994 jury.
What the Justice Minister and her advisers refuse to acknowledge is that the hallowed British legal system does get it wrong. This has been acknowledged in England and Scotland by the establishment of Criminal Cases Review Commissions (CCRC). In its first 15 years, 320 of the 480 convictions referred by the English CCRC to the Court of Appeal for reconsideration were overturned.
The English CCRC was established as a result of a royal commission set up after the release of the Birmingham Six, Guildford Four and Maguire Seven, all long-term prisoners wrongly convicted of being part of the IRA bombing campaign in the 1970s.
The CCRCs were set up to review cases where it considers there is a "real possibility" the conviction will be overturned on referral to the Court of Appeal. Last year a campaign began to boost the funding and independence of the English body to ensure more cases could be undertaken.
In the United States, where the death penalty adds to the need to get decisions right, states are looking to set up similar bodies. North Carolina was the first, in 2006, to establish an official innocence commission, with the power to review and investigate individual post-conviction claims of innocence.
The development of DNA technology was the catalyst in the US for highlighting not just the extent of the "judicial" incarceration of innocent people but also, as one academic commentator observed, "the enduring resistance of our judicial system to recognising post-conviction claims based on factual innocence".
What these miscarriage of justice tribunals acknowledge is that the British justice system not only gets it wrong from time to time but hates admitting it is not infallible. According to Christchurch QC Nigel Hampton, it is designed that way. Writing in the NZ Lawyer in 2009, he noted: "Our appeal courts are relatively constrained by legislation as to how they can look at and handle contested criminal convictions.
"Put generally, the appeal courts scrutinise the trial which has taken place to see, first, if the trial was run fairly and in keeping with due processes and, secondly, to make sure the trial judge made no errors of law whether in allowing in or excluding evidence or in her or his directions in summing up to the jury." They have "no wide-ranging inquiry as to whether a miscarriage possibly has occurred".
He was arguing for a CCRC system along the British lines. In January 2006, retired High Court judge Sir Thomas Thorp made a similar call after a two-year study of the nature and incidence of miscarriages of justice. His interest arose after reviews he did for the government on controversial cases such as the Peter Ellis Christchurch creche affair - New Zealand's Salem witches-like trial.
Based on the British experience, Sir Thomas estimated that on a population basis, there may be 20 people wrongly imprisoned in New Zealand jails at any one time. Mr Hampton says that based on his experience as a criminal lawyer, that's a conservative estimate.
Sir Thomas analysed 53 applications to the Justice Ministry claiming miscarriages of justice from 1995 to 2002. Of these, he classified 26 per cent as "raising issues that clearly required careful investigation", 16 per cent were "plainly without merit", while 58 per cent had "sufficient potential to require some further investigation".
Sir Thomas said a "fully independent and appropriately staffed and resourced authority" should have the task of identifying miscarriages and putting them forward for reconsideration by courts. That should include investigative capability. The authority should seek means to reduce the ethnic imbalance of claimants, identify causes of miscarriages in New Zealand, recommend means of minimising their occurrence, and assess compensation for wrongful convictions.
The National Party justice spokesman at the time, Richard Worth, supported the proposal, just as this week, Labour's justice spokesman, Andrew Little, did. He said that in cases like that of Pora, where there was a reasonable claim of miscarriage of justice, investigations should be carried out independent from police and the Ministry of Justice to ensure serious errors and misjudgments were reported transparently. '
"An impartial body - along the lines of the UK criminal cases review commission - would act as an extra safeguard," he said.
They're both right. Pity neither major party does anything about it when it becomes the government.