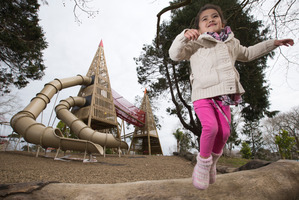 A curious phenomenon has taken root in society. At the same time as we have been challenging the physical environment like never before - whether in space, the deepest of oceans or the most dangerous of mountains - we have become more timorous in more mundane spheres.
Never was this as evident as in the development of playgrounds that sought to eliminate any element of risk. Places where children once challenged themselves and learned where their boundaries lay became uninspired and unused. Fortunately, there are signs this era of risk avoidance has run its course. For children, in particular, that end cannot come quickly enough.
The pointers to a changing attitude, highlighted in today's Herald on Sunday, lie in the new breed of playgrounds that are appearing at park and school playgrounds around Auckland and other parts of the country. In September, Henderson's Tui Glen Reserve opened one of these, featuring an eagle's nest, rope bridges, flying foxes and tube slides descending from large towers.
Chelsea Primary School has another. They have proved very popular. Those in parks are designed to provide fun and physical benefits for every age group. All are distinguished by the challenges they provide. These are far from the unimaginative plastic playsets that have held sway in recent years, which were designed to remove the risk of even a bump or bruise.
Inevitably, injuries will occur at these new "destination playgrounds". At Tui Glen, this has resulted in a temporary closure so a slide can be made safer for smaller children. But, reassuringly, the occasional bruise or breakage now seems to be regarded as a reasonable trade-off for a source of entertainment and learning for excited, previously unchallenged children. That attitude must endure.
Broken arms were once routine for generations of children who used to climb trees and scale cliffs. For every relatively minor injury, a multitude of youngsters gained a sense of achievement and confidence and learned the limits of their abilities and when it was necessary to change their behaviour.
Replication of this with today's children means we will not have to face the consequences of a risk-avoidance society. According to some researchers, this would involve adults so overprotected in youth and so fearful that they could not suddenly learn to take the risks inherent in, say, entrepreneurial activities.
That scenario may be somewhat over-egged. Either way, children must be allowed to make their own errors. Parents, for their part, have to allow them to make those mistakes. A broken arm is not evidence of reckless or neglectful parenting. That is not to say, of course, that the new style of playground should not embody safeguards.
A broken bone may be acceptable; a serious blow to the head is not. There is no place for equipment that could lead to that. As in the case of the Tui Glen Reserve, quick attention must be paid to anything that poses too great a risk. Likewise, schools should have monitors overseeing the use of such equipment, so children's enthusiasm and imagination do not get out of hand.
Every human activity carries a degree of risk. But that is what provides the challenge - and the reward. We need to encourage children's sense of adventure. All power, therefore, to Auckland Council which has been thrilled with the response to Tui Glen and plans to open others, starting with one in Oratia. There, too, children will demonstrate that being wrapped in cotton wool is the last thing they need or want.