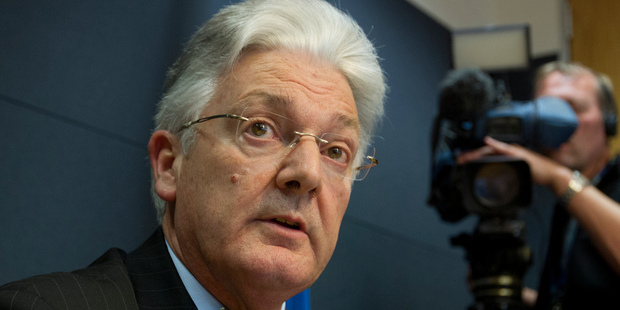 With United Future having lost its registered status, Dunne was deep in personal and party doo-doo. Photo / Mark Mitchell
These past months it's sometimes seemed like Extreme Makeover: MP Edition. Peter Dunne, I mean. Until recently, the member for Ohariu was middle everything: middle-spectrum, middle-mannered, middle-aged. As middle-of-the-road as a median strip.
But then something happened. Captain Sensible went rogue. He wasn't the source of the leak of the Kitteridge report into the misbehaviour of the GCSB, he insisted. He had indeed talked to a journalist about leaking it, but, you know, changed his mind. He wouldn't cough up his emails and so he was resigning as a minister. All of a sudden, he was in the middle of scandal, the subject of speculation, rumour, wild and baseless innuendo even. The nation pinched itself.
With United Future having lost its registered status, Dunne was deep in personal and party doo-doo. But the political obituaries were premature. He sprang back. The Government's proposed GCSB legislation was no good, he said, and he wasn't about to vote for it.
He appeared bolshie, even a bit smirky. Could Peter Dunne overtake Maurice Williamson as the political hipster of the NZ Parliament? He was even taking delivery of illicit white powder. Any minute, it seemed, he might pop up, bowtie intact, beatboxing with a glockenspiel in a Williamsburg taqueria.
Oh well. At least it was fun while it lasted. Before you could say Johnsonville Mall, Dunne was transacting with the Prime Minister on the spying law.
"When you have a willing buyer and a willing seller, you can always do a deal," he explained. The bill became less bad. But it stayed bad, among other things leaving the thorny question of unwarranted interception of private communication logs (let's stop saying metadata) unaccounted for, and oversight still flimsy.
The one properly important concession secured by Dunne was an "independent review" of NZ intelligence agencies. Except - and it's a big except - it doesn't happen until 2015.
All over the world, revelations of widespread electronic surveillance by the US National Security Agency have engendered debate about the scale of covert snooping. The latest disclosure came yesterday, when the Guardian published slides describing the NSA's X-Keyscore, a tool enabling apparently limitless, warrantless viewing of online activity.
The GCSB is one of the "five eyes" in the NSA-led Echelon information-sharing alliance, and the slide "Where is X-Keyscore?" shows a world map, with a red dot plonked squarely on the South Island. Amid all of this, it is hardly the time, as the Privacy Commissioner, the Human Rights Commission and the Law Society among others have politely noted, to ram through under urgency this law, along with its legislative sibling, the Telecommunications Interception Capability and Security Bill. As if that weren't enough, the week has vomited up fresh reasons to pause. First, the allegations that journalist Jon Stephenson had his phone records intercepted by US agencies at the request of the NZ Defence Force, and news that official NZDF guidance classified "certain investigative journalists" as "subversives". Remember: the GCSB bill includes the NZDF among the new agencies on whose behalf the GCSB can spy.
There was another alarming example of dodgy snooping, again involving a journalist. Last week, parliamentary Speaker David Carter said the Henry inquiry had sought Fairfax reporter Andrea Vance's phone records but had not been given them. Which was all true, he clarified this week, except that the inquiry hadn't sought her records. And it had been given them. Which will make you as cross-eyed as the way we arrived here: scrutiny of an inquiry into the leak of a report into illegal spying by the GCSB.
The links don't stop at provenance. The Parliamentary Service's release of private records does not fall under the GCSB or TICS bills, but it is screamingly pertinent. It's all about the way data (or, cough, metadata) is protected; it's all about the quality of and faith in oversight.
Put it this way. When it comes to legislation that could affect freedom of expression, "New Zealanders will not have confidence in a ... bill rammed through by a slender majority without public support and with the backing of only the bare minimum of parties". That was John Key, in 2007, talking about the Electoral Finance Bill, but it's wise advice today.
In the same speech, by the way, the future Prime Minister said this: "I believe what Thomas Jefferson said - that the price of freedom is eternal vigilance. We cannot and we must not take democratic freedoms for granted."
But as long as it does rest on the very slenderest of majorities, Dunne could make one adjustment to his demands.
That independent review: hold it immediately, not in two years - especially if there is substance to the Prime Minister's sudden declaration that al-Qaeda operatives are in New Zealand.
After all, what possible reason to delay?
Let those who might call it politically expedient to postpone scrutiny until after the next election be hushed, silenced along with the cynics who doubt the principles of Dunne's willing sale of a parliamentary vote.
It's all common sense.