Improving haphazard traffic light phasing may reduce both motorist impatience, accidents and need for expensive extra red-light cameras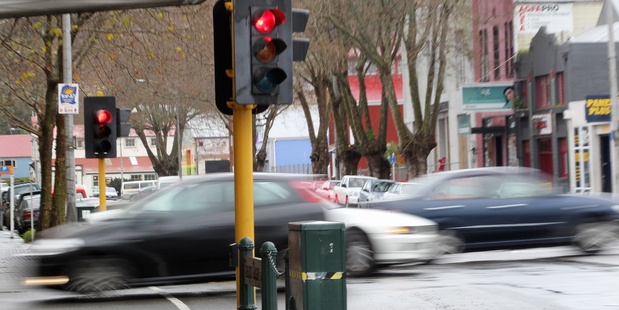 Red-light running is, quite rightly, regarded as a particularly perilous practice. The laws of physics dictate a high chance of injury if it results in a crash.
This is underlined by the fact it was a contributing factor in the deaths of 11 New Zealanders between 2008 and 2012, and the serious injury of 169 others. During the same period, the extent of the problem led to a trial in which three red-light cameras were rotated around 10 Auckland sites. The outcome was sufficiently persuasive for the Government to announce this week that it was committed to the greater use of cameras.
The trial suggested that between 12 and 14 sites in the city may get red-light cameras, while nationwide there may be 26 to 30 intersections where they would be the most appropriate way to tackle red-light runners.
From the end of next year, this task will be allotted to much-improved cameras that function wirelessly and use radar technology. A full digital upgrade is to be completed in 2015.
The evidence suggested, said the Associate Minister of Transport, Michael Woodhouse, that the cameras would be an important tool to reduce injuries and save lives.
Overseas research, which has spurred the widespread use of speed cameras, reinforces this assessment. Indeed, the Auckland trial confirmed the potential. It showed the cameras triggered an average 43 per cent reduction in red-light running and an average 69 per cent decrease in crashes attributable to the practice.
More efficient technology should create an even greater deterrent. Even so, the cameras involve a substantial expense when in the particular case of Auckland, less costly measures would go a long way towards remedying the problem.
Certain types of motorists are more likely to run red lights. This suggests carefully tailored education campaigns would be successful.
The $150 fine for running a red light also seems light by international standards. But, most significantly, overseas research points out the role certain adjustments in traffic-light cycles can play in reducing red-light running.
In Auckland, the often haphazard phasing of lights is a constant irritant. Sometimes the red light lasts too long for the amount of traffic; sometimes, the lights operate with a seeming disregard for others in the immediate neighbourhood. This lack of co-ordination, allied to long waits, is undoubtedly part of the reason why some drivers are tempted to run red lights.
At many Auckland intersections, the priority should therefore be to improve the phasing of lights so they are as driver-friendly as possible.
In theory, this should be about to happen because a government position paper says an intersection audit will have to be completed before a camera is installed. This would encompass all options to improve safety.
In practice, however, it will be easy to be seduced by the promise of new technology, especially dual red light-speed cameras that have the added plus of lessening the risk of drivers speeding up to beat the lights.
That temptation must be resisted. Most motorists will welcome the wider use of red-light cameras if they are clearly the best way of increasing safety at particularly high-risk intersections. But that sentiment will wane if there is no complementary improvement in traffic-light timing. Achieve the latter and a change in driver attitude and behaviour will mean few red-light cameras may actually be needed.