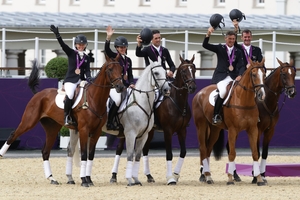 Angry protests in Brazil have a sobering message about public spending on elite sporting success and grandiose sporting events - and one that New Zealand should heed.
Brazilians resent billions of dollars being spent running World Cup soccer, in a country that suffers from poor education, limited medical facilities and a rundown public transport system. As well as being an extraordinary sight in a country commonly considered to be football mad, the protests are a signal to all governments, including our own, that they should more carefully consider the costs and benefits of putting money into sporting goals that achieve a limited outcome.
Making Olympic and Commonwealth gold medals the major priority for elite sport funding in New Zealand has been a hugely influential decision by Sport New Zealand (SNZ). It's also one that's gained government support, in the form of $60 million a year, with an expectation that this will be increased in the 2014 Budget.
That priority should be given to winning medals should not be seen as a fact of life. It is a choice of decision-makers and, as such, should be open for discussion and debate. Rather like the title of Bruce Jesson's 1999 book Only Their Purpose is Mad, if the winning of Olympic and Commonwealth medals becomes the Holy Grail then all decisions made to achieve that goal make sense. The problem is, however, that these decisions have real-life consequences for many New Zealanders and for many sports.
Take surf lifesaving. After winning a world title last year, the organisation lost $380,000 or 54 per cent of its funding because it is not an Olympic sport. At the same time, equestrian sport, which gained a single bronze medal at the London Olympics, was awarded an extra $4 million, increasing its funding to $7.2 million.
Why is an Olympic bronze of greater value than a world championship title? Which sport contributes more benefit to the taxpayer? For SNZ to justify its decision by stating that surf lifesaving is not a "targeted sport", when SNZ decided in the first place which sports should be targeted, is disingenuous.
It is hard to see why the pursuit of Olympic and Commonwealth medals should take precedence over all other considerations.
The SNZ high-performance strategy states that winning in international events is important and that, among other things, it "encourages New Zealanders to be active". This would be more believable if SNZ's funding wasn't targeted at sports that are not easily accessible to many in New Zealand.
It is difficult to imagine that the extra money allocated to equestrian, for example, is going to lead to large numbers of Kiwi kids suddenly buying horses and taking up the sport.
Yachting gets $11.2 million of public money while basketball has recently had its funding cut, leaving the code struggling to run national team programmes. This is despite evidence from SNZ's 2012 sport and recreation survey that basketball, with soccer and tennis, is one of the three sports that most interest boys and girls of all ages. It is worrying that the very sports capturing young people's attention are the ones receiving limited funding.
In 2009, an Australian Government-commissioned report was critical of Australia's focus on winning Olympic medals and advocated spreading funding over a range of sports.
Olympic success has much to do with the feel-good factor - having success on the international stage is considered to make us feel a little better about ourselves and our country.
But is this feel-good factor enough to justify the financial commitment we are making or could the money be better spent on medicine, education or on programmes specifically designed to encourage more people to be active? We need to be debating these questions as a nation, keeping in mind that if the people of Brazil can turn against soccer, then just about anything is possible.
Dr Barrie Gordon is a senior lecturer specialising in physical education and sport at Victoria University of Wellington.