The outcomes might be different, but the divisions are universal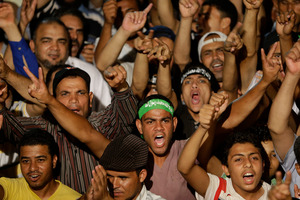 The nation is divided against itself. On one side are the liberals who want to live in a tolerant, secular society. On the other are the fundamentalists, who want to turn back the clock by enshrining their literal interpretation of religious texts and principles in law.
Thus, the nation is at risk of becoming ungovernable. The recent election, seen at the time as marking a decisive social and political shift, might as well not have happened. The elected president now seems little more than a bystander watching helplessly as his agenda is systematically thwarted.
The nation is, of course, the United States of America.
At least the two sides are still talking to each other, even if it's largely a dialogue of the deaf, full of sound and fury, signifying nothing.
The right derailed the push for meaningful gun control, and now immigration reform is becalmed in the House of Representatives, that legislative Bermuda Triangle where bipartisanship and compromise disappear without trace.
In Egypt, however, a not dissimilar divide sent both sides into the streets and prompted the military to depose the country's first democratically elected government.
While western liberals look on uneasily as their Egyptian counterparts cheer on the army, this embarrassing outcome demonstrates yet again that the west should be careful what it wishes for when it indulges in its periodic fantasies about Middle Eastern democracy. Chances are it will end up looking ineffectual and hypocritical.
After Hamas won elections for the Palestinian Legislative Council in 2006, the US, Russia and the European Union cut off aid and imposed sanctions until it renounced violence, recognised Israel and undertook to abide by previous agreements.
Not unreasonably Hamas pointed out that would mean backsliding on its election promises; furthermore, if the Palestinian people had been in favour of those things, they would have voted for the rival, supposedly moderate party, Fatah.
Hamas had failed to grasp that democracy means never having to say you're sorry for saying one thing on the campaign trail and doing quite another once ensconced in the corridors of power.
What's happening in Egypt, to a lesser extent in Turkey and to a lesser extent still in the US draws attention to democracy's second major flaw (the first being that other people can't be trusted to vote the way we would like them to): when an electorate is split down the middle, a hair's breadth victory in a winner-takes-all contest can leave the losers feeling disenfranchised and fearful that unpalatable measures and policies are going to be rammed down their throats.
Those fears will assume paranoid proportions if the losers' distrust extends to doubting the winners' commitment to democracy. There's a strong suspicion that Islamists define democracy as "one person, one vote, one time". Before he was elected, Turkey's Islamist-leaning Prime Minister Recep Tayyip Erdogan reportedly compared democracy to a train: "You get off when you reach your station."
The worry is that, like Hitler and Nazis, these groups see democracy as a means to an end - gaining power. Once that's achieved, all bets are off.
I can think of one political candidate who faced up to this problem. In 1969 Norman Mailer, one of the most famous and and certainly among the most controversial writers in America, sought to become the Democratic candidate for the New York mayoralty.
(His running mate was Jimmy Breslin, a crusading columnist who was once beaten up by the gangster upon whom the Robert De Niro character in Goodfellas was based. Breslin probably felt he got off lightly: Jimmy "The Gent" Burke was suspected of having carried out 50 murders.)
It wasn't your usual campaign. Mailer promised that if elected, he'd deliver bad news "in elegant language". Asked how he'd go about removing snow that council workers couldn't be bothered shifting, he promised to urinate on it till it melted.
But Mailer had one interesting idea: that New York City should be broken up into autonomous units based on traditional neighbourhoods which would run themselves as they saw fit, even if that meant making free love or church attendance compulsory. People would gravitate to neighbourhoods that were in sync with their views and values, and everyone would live happily ever after.
But New Yorkers didn't go for it, whether because they thought compulsory free love was a contradiction in terms or were put off by Mailer's long history of riotous behaviour which included stabbing one of his wives - he accumulated six - with a penknife.
I suspect the real issue was that when people are vehemently opposed to something, it's not enough that it doesn't go on under their noses. They don't want it going on anywhere at all. Hence the problem.