Ageing league star may not be the rugby franchise's best bet for the future.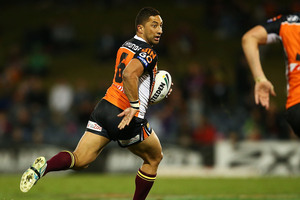 There's something invigorating about Blues coach Sir John Kirwan's bid to lure the league magician Benji Marshall to Auckland but timing is everything in life and it's a little off in this case.
Marshall, the deposed Kiwis league captain, represents what Auckland rugby aspirations should be all about. He plays with a swagger, a chutzpah, and above all a game-breaking skill that is rare almost to the point of unique. Only Quade Cooper comes from the same mould, presently, and Carlos Spencer before them. Neither has matched Marshall's peaks.
There's an encouraging swagger to the Blues in even thinking along these lines.
Wayne Smith, the ex-All Blacks coach, is dead right. At his best, Marshall was the best player in either league or rugby. He had vision, speed, instincts, magic hands and a fast-twitch football brain, all of which was transported around by the nearest thing to the India rubber man you'll find on a football field.
He was tough as nails, coming back from a series of shoulder disasters that had many (hand up here) believing his career was doomed.
But there are big buts with this. Marshall turns 29 early next year, which means by the time he settles into the new code (presumably at No10) and understands it - if he gets to understand it - he'll be in his early 30s. He's also got a touch of the Quade Cooper to him - in league his risky plays are more acceptable because the receiver can take a tackle and start again. In rugby, it can mean getting smashed backwards behind the advantage line.
The Super 15 is a travel-heavy slog which has been undermined by its own masters, and is hardly carrot enough for an ageing league star.
The black jersey will be dangled in the mix, yet is hardly a credible carrot with the No10 talent on hand.
Initially at least, the best Marshall situation would involve a queue of Daniel Carter, Aaron Cruden, Beauden Barrett and Marshall but scant time to make the next World Cup squad.
Sevens have been mentioned but that is hardly in the Blues' interest because that genre requires specialist training that usually removes players from 15-a-side competitions.
The Blues need a quality playmaker, without doubt. Chris Noakes started the season well but the opposition are on to him - he's got a one-trick feint and not a lot else. I thought he was awful against the Sharks yesterday morning.
Back to Marshall.
He has rediscovered some of his old spark, but can hardly be rated in vintage form. He would join rugby when it looks to be heading back to the bad old days of kick tennis, which hardly suits his style of game. And any comparisons with the code-switching rugby sensation Sonny Bill Williams are irrelevant.
SBW didn't operate in a central control position, he was younger, physically tougher, had no Marshall-type defensive qualms, and even then took a few seasons to find his feet.
On one hand, it would be exciting to see one of the greatest footballers in history line up for the Blues. This city is crying out for such a rugby boost. But really, it's time the Blues did the hard work, the sort that pays true dividends over time, by discovering and moulding the next Carlos Spencer or Dan Carter rather than chase a classy but fading article from another code.
Lift was dangerous
George North, the Lions wing, should be facing a judicial hearing this week instead of being likened to the Incredible Hulk.
North, while holding the ball, lifted tackler Israel Folau skywards in order to keep charging ahead during the Melbourne test.
It looked weirdly wonderful, but when our senses had come back to earth, there could only be one conclusion - North's move was as dangerous as any spear tackle.
If it isn't already dealt with under dangerous play, the move should be banned. Folau could have been seriously injured. It's also a bad example for kids, who love to copy their heroes.
Chiefs keep delivering
Time to say it again.
The Chiefs coaching team of Dave Rennie, Wayne Smith, Tom Coventry and Andrew Strawbridge have worked wonders in a short time. Through injuries or whatever else, they come up with the goods, bring out the best in their players, play some exciting rugby and have a liking for exciting players.
An observation - their inspirational captain Craig Clarke looked more like a test lock than Jeremy Thrush during Friday night's match against the Hurricanes. Clarke, who is heading to Ireland, will be a massive loss, but the Chiefs always seem to have an answer.
Another observation - New Zealand is developing an amazing line of tighthead props, with two of them at the Chiefs. Owen Franks, Ben Afeaki, Charlie Faumuina, Ben Tameifuna ... other countries would kill for that lot. At a mere 118kg, Franks - the All Blacks' scrum linchpin - is the little guy by some way among that lot.
Arrogance from Nonu
Test veteran Ma'a Nonu is a disgrace.
His latest transgressions against the Crusaders further portray a player who doesn't seem to care unless he's in the black jersey. His Super 15 attitude comes across as an annoying arrogance.
He is a senior player who should have been leading the way at the struggling Highlanders, but he's let the side down.
Surprise, surprise, Jarrad Hoeata has also been cited over a facial on Andy Ellis.
Innocent until proven guilty, of course, but Hoeata could have been a decent cog in the All Blacks' wheel but for operating on the verge of losing his focus by losing his rag.