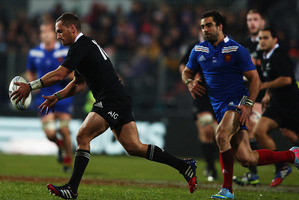 Improvement across the board was demanded after the first test and it was delivered last night.
It was a clever game plan, executed well - real test match rugby and none of this Super Rugby run it from everywhere stuff. The All Blacks kicked for the corners and for vacant space and they put the French under a lot of pressure and they didn't look happy at all.
I had just one moan - I thought Sam Cane was conspicuous by his absence in the first half, but then he made some good tackles in the first half and produced that chargedown which led to Ben Smith's try. In the end, I reflected that he did his job okay. I wouldn't give him a cross on that display but I would give the other All Blacks a big tick as they really upped their efforts and let Cane show up a bit more in the second half.
Well, I have another moan. I moaned that they shouldn't be replacing people with four minutes to go. Why would you do that, I asked? Then Beauden Barrett scored under the sticks, so shut up Richard ... that's why they do it.
The All Blacks improved in all areas, I thought. The scrum was better, the rucks and mauls and clean-outs were better and about the only thing that still needs improving was the lineout - particularly the distribution from jumpers to halfback and I thought Aaron Smith could have stood a bit closer to the lineout. Pretty small grouches, really.
Man of the match for me was Kieran Read - a huge work rate and effort; a real captain's knock in his 50th test. I thought Aaron Cruden did really well and he looked so much better than the vastly more experienced Freddie Michalak. In fact, it was Michalak who most showed the pressure the All Blacks were putting on the French by melting down a bit.
Ma'a Nonu and Sam Whitelock had big games and it was good to see Israel Dagg and Julian Savea coming back to form too, while Rene Ranger was again terrific when he came on. That's why I like selecting people in form.
The scrum was solid and Dane Coles was another All Black improver, with a better game round the park last night. The selectors will be happy with that. I am not sure how the French will answer this in the third test, especially with injuries to key players like Louis Picamoles and Michalak - but we know enough not to write them off, don't we?