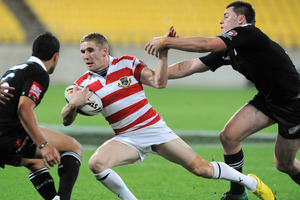 If the Warriors are trying to recruit Sam Tomkins as a five-eighth then I can see some sense in that, but if they are trying to lure him to Auckland to play fullback, it doesn't really add up.
The club has two quality fullbacks in Kevin Locke and Glen Fisiiahi and both have been playing superbly recently. It is difficult to separate the two, although coach Matt Elliott appears to lean towards Locke in the No1 jersey and Fisiiahi on the wing.
Tomkins is clearly a good player who has made a big impact in the UK Super League, but it's completely different in the NRL. He is untested, and that's a risk, especially at the $1 million price tag being bandied about.
There might be a vacancy in the halves, assuming Thomas Leuluai slots into hooker next season if the club lets Nathan Friend go, and that's where Tomkins might come in. Even then, I'm not sure he's the sort of ball-playing five-eighth we expect, but sometimes you have to take a punt.
Assuming the Warriors get Tomkins, I don't think there are too many more vacancies at the club after the recruitment of Jayson Bukuya and Chad Townsend from Cronulla. Both will add good depth.
Clubs should always be looking to add top-quality players but not signing for the sake of it. There are some very good juniors coming through the system and they should get a chance in first-grade down the track.
Two who have come through the system are Locke and Fisiiahi and I have enjoyed the way they have responded over the past three weeks.
Fisiiahi at fullback in the past fortnight looks to have changed - and it's absolutely brilliant to watch. He's running with purpose and has proved he's a better fullback, where he has a lot more room to roam and use his pace and vision, than he is a winger.
His positional play is spot-on and his involvement has picked up considerably from last year. Playing for the Vulcans in the NSW Cup seems to have toughened him up and you also can't discount the competition with Locke or the threat of Tomkins' possible arrival.
Locke has picked up his game considerably since talk around Tomkins surfaced. Like anyone, he needs to do it consistently, and that's a challenge.