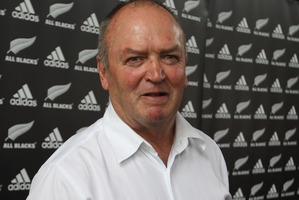 What a shame Sir Graham Henry was forced by Sanzar to apologise for his refreshing honesty in commenting on "blind" video refs. And what a shame he didn't take the opportunity in his apology to make Sanzar squirm for their grim, humourless custodianship of our rugby etiquette.
Sanzar felt fining Henry was over the top, asking for a public apology instead. Henry may have preferred the fine but said: "I want to apologise to Sanzar and to the match officials involved for my comments, and for any offence they may have felt, as this was certainly not my intention. My intention was to try to respond to media questions in relation to matters I thought were important, in an honest but humorous style. I clearly failed to achieve that and in some respects, I accept my comments went too far in criticising the match officials."
Sigh. We in the newspaper business are not unfamiliar with apologies. We've been known to make a few and, fair play, if you have made an error, then the best way is to admit it. But if you read Henry's words carefully, he makes no apology for his views - just the way he expressed them.
Quite why anyone cares enough to punish coaches who criticise officials is puzzling. Surely, in this day and age, a bit of controversy in sport is a good thing; disagreeing with the referee is part and parcel of sport though, as the Herald on Sunday's Sideline Champs campaign is showing, it should never spill over into foam-at-the-mouth invective or even violence. But Henry didn't do that and a running debate over an issue like a referee's error brings healthy focus on a sport, usually good news for sponsors, marketers, the brand, fans and the media.
The opportunity he missed, however, was to make an apology which isn't really an apology. What he's done does kind of come under that general heading - but we in newspapers know there is a quasi-apology that can be made when we get something wrong but where the reality is actually worse than the mistake.
An example - the classic correction from the Aberdeen Press & Journal which said: "We have been asked to point out that Stuart Kennedy, of Flat E, 38 Don Street, Aberdeen, who appeared at Peterhead Sheriff Court on Monday, had 316 pink, frilly garters confiscated not 316 pink, frilly knickers."
From the Times of London: "We may owe an apology to the Department for Culture, Media and Sport. Last month we dubbed it 'Whitehall's answer to Sir Elton John' after it emerged that it had spent £46,000 on pot plants in two years. Now we learn that staff at the Department for Children, Schools and Families spent £78,000 on pot plants in a single year. The crown, thus, is theirs."
You can see the difference to a straight apology like this one, from the Argus Observer in Ontario: "A story that appeared on Sunday contained the incorrect spelling of a name. Pastor Dick Bigelow was incorrectly identified as Dick Bigblow. We regret the error." Someone may have been fired there, you think?
However, the best apology ever (but which is not recommended unless you have tons of courage and libel lawyers who owe you lots of money) came from Gawker, an online media company and blog specialist with some, uh, strong views. I have used this example before but love it so much that I feel justified in reproducing it. Those of delicate disposition should look away now.
After Gawker repeatedly got it wrong that Saif al-Islam Gaddafi, one of the sons of Libyan dictator Muammar al-Gaddafi, had paid Beyonce to perform at a New Year's party, they were told by Gaddafi's PR agent that it wasn't true. What followed must have had the PR flack choking on his morning coffee.
Gawker started with a headline: 'Correction: Beyonce Played NYE Show for Different Shithead Gaddafi Son'. It continued: "Tonight we received an urgent email from the PR firm representing shithead Libyan Dictator Muammar al-Gaddafi's son, Saif al-Islam: We incorrectly reported Beyonce performed for him this New Year's! She actually performed for Col. Gaddafi's other shithead son, Hannibal.
"Col. Gadaffi is in fact a ranting, terrorist-backing shithead of truly staggering proportions. It is as if God literally took a pile of shit, fashioned it into the shape of a head, placed it gingerly on the neck of Muammar al-Gaddafi, then let him run a good-sized country using only the worm-addled brain contained therein. Not a 'perception': A cold, hard, metaphorical fact."
RIP, Colonel Gaddafi. No one is advocating that Sir Graham Henry should have done something similar (but wouldn't it have been a welcome change from the vanilla custard that is most sports comments?)
Here's what he could have said: "I would like to apologise for calling the video ref blind. He is clearly not blind at all. His dog might be. As for calling the decision to yellow card Culum Retallick for a deliberate knock-on 'bullshit', I was also thinking about dogs at the time. We once had a bull terrier-Shih Tzu cross. We called it a bullshit - so clearly I could not have been referring to the yellow card decision but, if anyone thought I was, I am sorry."
Henry is one of the few who could get away with something like that. I'm told that, in making his pronouncements to the adoring media throng, he appeared as some kind of wisecracking rugby messiah, evoked the following dialogue from Monty Python's movie, Life of Brian, their Jesus spoof.
Brian: I'm not the Messiah! Will you please listen? I am not the Messiah, do you understand? Honestly!
Girl: Only the true Messiah denies His divinity.
Brian: What? Well, what sort of chance does that give me? All right! I am the Messiah!
Followers: He is! He is the Messiah!
Brian: Now, f*** off!
[Silence]
Arthur: How shall we f*** off, O Lord?
Shame Henry didn't tell Sanzar how.