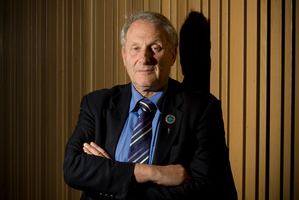 Climate scientist Jim Salinger's grim picture of where we are headed if carbon dioxide levels continue to rise shows up the New Zealand Government's wish to intensify the exploration and extraction of our fossil fuels as an abandonment of responsibility. Ministers, with the Prime Minister in the vanguard, enthusiastically describe the potential wealth to be gained from oil and gas discoveries. They are pulling out all the stops in the encouragement of further exploration.
But they say not a word about what it means for the human future if we go on burning fossil fuels until they are all exhausted. Any acknowledgement that there may be danger is limited to the statement that our contribution is too small to make a substantial difference. Further justification is offered by the argument that we must not hold back and lose out financially while others are profiting from their reserves.
Climate Change Minister Tim Groser has made it clear he does not argue with the science.
The Prime Minister has agreed that climate change is happening and faster than we would have hoped. But they apparently see the financial benefits of mining as outweighing the threat.
By any rational measure this is madness. The consequences of ever-increasing emissions are massive. Sea level rise alone will displace large populations and require enormous expenditure to protect many great cities. Desertification will render many productive areas unable to grow food. The adaptive capacities of billions of people will be stretched to the limit and beyond.
By any ethical measure it is immoral to needlessly place such burdens on coming generations and indeed on some current generations in ignored poorer areas of the world.
Our Government is admittedly not alone in its stance. Many nations with fossil fuel reserves are behaving in the same way. They are equally at fault. The world does not need fossil fuels. There are alternatives more than adequate to our energy needs. Admittedly the transition cannot happen overnight but, if governments will get behind it, it can be made within a period of time short enough to improve our chances of avoiding the worst effects of climate change.
The New Zealand Government appears happy to hide in the pack. Mr Groser's assurance is that we're ready to set out when the rest are ready to join us. In the meantime we prefer to contribute our share to the expanded production of fossil fuels which bodes so much wreckage to the climate on which civilisation depends.
No Government voice is raised in support of the alarm which the science sounds. While there's money to be made from more oil, gas and coal it's presumably judged expedient not to dwell on the delayed price which will be paid by others. But maybe they're not as cynical as that. Maybe it's just that the short-termism of successful politicians literally prevents them from looking further than a few years ahead.
Whatever the reason, the priorities are clearly badly wrong. New Zealand needs to turn its back on a prosperity resulting in severe threats to the human future and look to build an economy which flourishes on green energy sources. We are actually very well placed to achieve that, and it's where Government effort and money should be directed. There is no justification for avoiding that effort because some others are not making it. We are being badly misled by current policy.
Bryan Walker is a retired teacher of Hamilton who has blogged in the past for the climate change website Hot Topic, syndicated to Sciblogs.