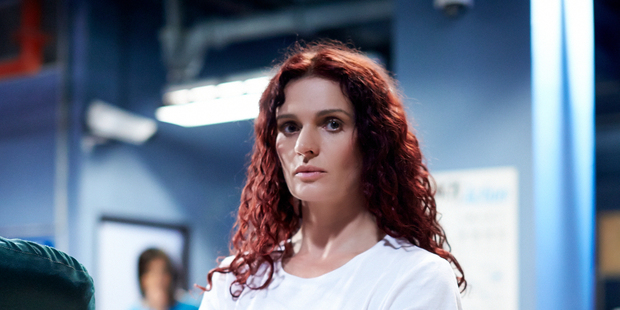 It was one of the odder parts of my very normal childhood. Coming home after school and watching television, I was first scared witless by big, bad Bea Smith of Australian series Prisoner and then comforted by that lovely little Maori man and te reo pioneer Olly Ohlson on After School.
It really was a weird combination, and cover star and actress Danielle Cormack who plays Bea Smith in Wentworth, the modern version of Prisoner, thought so too. I have no idea why I watched Prisoner. It was just on before After School, I guess.
Anyway, looking back at it, the original long-running cult series is a little laughable - but for its day it was ahead of its time. Prisoner had dodgy acting, and shonky sets (in some scenes you can see the steel bars moving as shrieking inmates rattle them as they bay for the stinking screws' blood), but as a drama-cum-soap opera it was gripping. If it wasn't Bea strangling other helpless inmates and generally throwing her weight around, then it was equally menacing screw Joan Ferguson (played by Maggie Kirkpatrick, who will star in stage show Wicked in September) giving innocent new prisoners a touch up or a pat down for her own freaky fun.
Of the other TV prison shows over the years - including American series Oz from the late 90s and Prison Break from a few years ago - you can't go past mid-70s British sit-com Porridge (check it out on the Jones! channel). It starred Ronnie Barker as Norman Stanley Fletcher (Fletch), the mischievous rogue from Muswell Hill, and Richard Beckinsale (the late father of actress Kate) as Fletch's young cellmate, Lennie Godber. Fletch is kind of like Bea, only cheeky and lighthearted as he goes about getting one over on the wardens. They don't make shows like Porridge much any more, and with its mix of one-liners, grubby innuendo and Fletch's never-ending words of wisdom, it's not a bad watch even today. It's certainly a far better bet than Bad Girls - which, from memory, was like a cross between Prisoner and the addictive tabloid schlock of Footballers' Wives.
Of course, New Zealand has its own prison drama too. At least Shortland Street has been impossible to escape for the likes of Rachel McKenna and Chris Warner (I mean Angela Bloomfield and Michael Galvin). Cormack got out early in the soap's long life, and she hasn't looked back since. Now she's nabbing lead roles across the Ditch.
Although, it has to be said, what's with the Aussies - of all people - recruiting Kiwis to play convicts?
- TimeOut