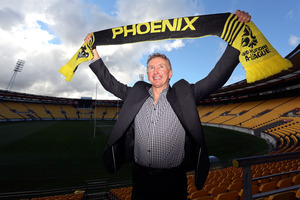 Some Phoenix fans might be underwhelmed by the appointment of Ernie Merrick - but chances are they won't be for long.
"After searching the world, the club has ended up with someone right on our doorstep" was a view of one supporter after the former Melbourne Victory coach was unveiled yesterday as Ricki Herbert's replacement.
He isn't quite the glamour name that some had hoped for, especially when several ex-English Premier League managers were linked with the job as well as others with experience in "top European leagues".
But Merrick, 60, has pedigree in developing youth, experience at rebuilding a club and also a point to prove after his swift and slightly bitter exit from the Victory in 2011.
Perhaps most importantly he has extensive A League experience. He understands the large travel demands, is used to working within the constraints of a salary capped competition and has a wide knowledge of an Australasian player base.
And he has come out with the golden ticket, after an exhaustive hunt.
As Phoenix chairman Rob Morrison explained in the press conference on Monday afternoon, the club were determined not to be rushed into finding Herbert's replacement.
Morrison and his colleagues seemed to approach the task like they would have in any recruitment decision in one of their other business.
A huge number of applicants (over 300) were whittled down to long list of around a dozen, which was then reduced to a short-list of six or seven. All the potential candidates were then interviewed at least twice, either via Skype or face to face. Some were brought to New Zealand, while senior club officials also flew to England and Australia to meet contenders. They also conducted extensive reference checks, even asking applicants to provide players that could be referees.
In comparison with the Warrior's awkward and public pursuit of somebody to replace Brian McClennan, and even the search for a new Black Caps coach after John Wright stepped away, it looks a thorough, detailed and discrete process.
Of course this doesn't guarantee that Merrick will produce the goods, nor that his team will be a success over the next two years. The league has evolved markedly over the last two seasons and a lot has changed since Merrick reached his third grand final with the Victory in 2010.
He inherits an ageing squad in urgent need of rejuvenation, one that has been built to destroy rather than create, and enters the transfer market when some of the best prospects have already been snapped up.
But our disillusioned fan can be sure of two things. The Phoenix look to have done everything possible to ensure they have the best man for the role and the team under Merrick will surely produce more attacking, attractive football that the dull, one dimensional fare of the last few seasons.