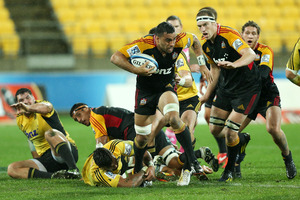 Judging by what we saw on Friday night in Wellington, we are reaching the stage of the season when the rugby is going to tighten up and become a lot closer to test matches in terms of style, intensity and physicality.
The weather was obviously a factor in the Hurricanes vs Chiefs game. Wet conditions encouraged both sides to kick and chase more than they have.
The Hurricanes were bizarrely disadvantaged late in the game when the Chiefs had Ben Tameifuna sent to the sin-bin. The yellow card for the Chiefs prop meant the game went to uncontested scrums and much of the contest was defused . The Hurricanes were building momentum and looking for the winning score - having contested scrums was important and they were denied.
But what to do? Can we really have teams nominating another player to take the yellow card in place of a prop to ensure scrums can still be contested?
Despite that anomaly, the Chiefs earned their victory on the back of some quality work from a few individuals. What gave the contest added edge was the number of match-ups across the field in regard to All Black selection.
In the battle of the halfbacks, I felt Tawera Kerr-Barlow had a lot of influence around the scrum and breakdown. He caused problems. TJ Perenara is probably the tidier halfback, a different sort of player and if it comes down to a straight choice between either of these two to be the third halfback for the All Blacks, I'd say it's a toss of a coin.
Beauden Barrett is improving and played better. But Aaron Cruden is an old campaigner and he is very deliberate, very calculated now. He doesn't take a lot of risks the way he used to, whereas Barrett still carries an element of risk.
In the loose forwards, Liam Messam showed up well physically and was happy to get in the faces of a few Hurricanes players. That helped him get noticed. I wouldn't say he outplayed Victor Vito, because the Hurricanes No8 didn't get the same sort of support as Messam did. Messam worked particularly well in tandem with Tanerau Latimer.
The Hurricanes, on the other hand, were more a collection of individuals. Jack Lam and Faifili Levave did their own thing and in these big games, it's important that the back-row work as one.
I'd expect this type of rugby to be more prevalent in the coming weeks - which isn't a bad thing at all. I know the game probably wasn't a great spectacle, but these grinding, gutsy performances are satisfying for players and coaches. They learn plenty and I would say at this time of year, those sorts of performances are what win championships.