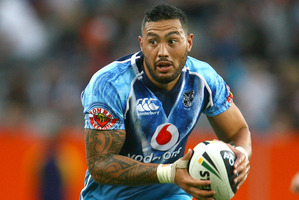 Well, that's a relief. Feleti Mateo is staying at the Warriors for three more years.
There aren't all that many with his playmaking capacity in the NRL and he's no slouch as a ball runner. You can live in hope via Mateo, which is all the Warriors have for now.
Matt Elliott's Warriors are on a road to nowhere, and tonight come up against Penrith who are coached by the man who had them on a road to somewhere. Ivan Cleary - now at Penrith - was a slow burner, but at least the flame kept burning. Then the 2012 season under Brian McClennan turned into a giant oops, and new coach Elliott still can't rid the team of their infamous late fades.
The Warriors would need a halftime lead of about 30 to be safe, and even then their long suffering fans would strap themselves in for a bumpy second half. They've had more bad drops than Tiger Woods.
The Warriors need every point possible but they muck about with home advantage, returning to lose again at Eden Park and daring to host a game in Wellington despite the club's appalling record around the country.
Elliott's public shopping trips - Sam Tomkins from Europe's weak Super League is repeatedly mentioned in dispatches - will almost certainly have an unsettling effect on some players.
The new fitness deal appears to have fallen flat, in at least one significant area. Konrad Hurrell - a potential game changer - must have got hold of an old Piri Weepu diet plan. The wrecking ball gets wrecked too easily and is languishing in reserve grade.
Elliott inherited new signing Todd Lowrie who is a Jaffa - Just Another Forward From Australia. The unknown quantity in analysing players like Lowrie (or most players, for that matter) is what they cost. In other words, how much of the salary cap or what the club uses of the salary cap went on snaring a journeyman forward from the Melbourne Storm. Operating an NRL club under the present constraints is a value game. To take this exercise to hypothetical extremes, at $50,000 a year Lowrie might be a terrific squad-boosting buy, but at $500,000 a year it would be wasted money.
Lowrie's work rate and impact is average, which is not what imports should be about. Which brings us to Jayson Bukuya, the fringe Cronulla forward who will try his luck at the Warriors from next season.
"He's certainly the sort of player who will benefit from the environment here," reckoned Elliott. Excuse me - which environment might that be? Bukuya's new club is struggling to win games, experiences more collapses than a Greek bank and matchwinners such as Hurrell and Mateo battle to produce their best.
Who knows if Bukuya will have the desired impact, and Elliott and co have no real way of knowing either. He's just another young prospect from across the Ditch although like Elliott himself, new signings get exalted introductions.
With no slur on Bukuya's abilities intended, his arrival is disappointing because the New Zealand Warriors should produce and encourage their own Bukuya-type players. His signing strikes at the heart of the matter, the identity of the Warriors and their development methods.
Another growing problem for the Warriors will be this: should they remain a troubled club seeking quick-fix answers their desperation will be easily manipulated by the agents. The rot, in Jack Gibson-speak, will set in. Problems will compound.
Meanwhile, x-factor players have said no thanks - Todd Carney rebuffed the Warriors for less money at Cronulla and Warriors escaper Roger Tuivasa-Sheck is wowing everyone at the Roosters. This, after the disastrous departure of James Maloney.
And now rising outside backs Peta Hiku - the Warriors junior player of the year last year - and the giant Sosaia Feki have popped up with promising starts at the powerhouse Manly and resurgent Cronulla. The Warriors can't hold on to every junior but they'll have an even harder job if they keep flashing their money on non-wizards from Oz.
And try this for trouble at mill. While the Warriors juniors keep the flag fluttering, the reserve grade Vulcans - the increased focus of future Warriors player development plans - were beaten in Wellington last weekend by a club from the Central Coast that isn't even affiliated to an NRL team. Ouch.