China's growing influence will compel learning.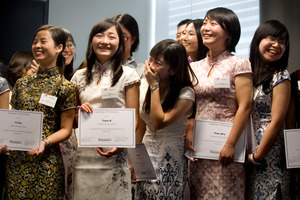 The drums are beating for more children to learn Mandarin. The Prime Minister wants more pupils to consider it. Education expert Wendy Pye goes further. She wants it to be compulsory for all New Zealand primary schools to offer children a chance to learn Mandarin. Compulsion would be a step too far. But it is not difficult to understand why there should be every encouragement for children to learn the language.
One reason was highlighted last month when for the first time China overtook Australia as this country's biggest export market. More broadly, it is only a matter of time before China becomes the world's biggest economy. Yet despite New Zealand's world-leading free trade agreement with Beijing, it seems other countries may be more awake to the importance of speaking Mandarin as an aid for tapping China's rapidly growing wealth. Sweden, for example, plans for the language to be taught in every school from 2020.
Across the Tasman, Prime Minister Julia Gillard is an equally strong advocate of Mandarin. Late last year, her government adopted one of the recommendations of a white paper entitled Australia in the Asian Century. This dictated that every child must have the opportunity to learn Mandarin, Hindi, Japanese or Indonesian and every school must be linked to one in Asia to support teaching of the language.
In at least one respect, many countries are catching up with New Zealand. Our diplomatic service has always placed a high priority on speaking the language. Four of the last five New Zealand ambassadors to Beijing, including the incumbent, speak Mandarin. That may seem unsurprising but John McKinnon, the Asia Foundation executive director, has noted that while he was the ambassador there, only about 20 of his 120 counterparts spoke Mandarin.
Excuses can be trotted out for this state of affairs. Business people, in particular, sometimes note the Chinese are far more interested in practising their English than listening to a New Zealander's faltering attempt at Mandarin. Maybe so, but that situation might not endure to the same degree as China becomes the world's dominant economic power. Mandarin is also said to be very difficult to learn. While 600 to 700 hours may be required to achieve basic proficiency in a European language, 2100 or 2200 hours is required for the wholly different proposition that is Mandarin. But this, again, is not a good reason for failing to acknowledge its importance.
At the moment, close to 17,000 children in New Zealand schools are learning Mandarin, up from about 7000 in 2010. That figure does not include those learning through continuing education courses. The surge over the past few years indicates there will be a growing demand to learn the language.
Initially, at least, meeting that may be hindered somewhat by a lack of teachers. This country's free trade agreement with China has, however, provided the bonus of Mandarin language assistants who are helping to teach the language in schools around the country. Currently, 22 are working here through the University of Auckland-based, Beijing-backed Confucius Institute.
The high level of Chinese immigration suggests that, in time, an ample number of native Mandarin speakers with teaching proficiency will be available to train an increasing number of New Zealand pupils in the language.
Our ever-growing links with China, allied to its ever-increasing global importance, present a compelling case for learning it. The demand for Mandarin will be there and there should be no need for compulsion.
Debate on this article is now closed.