Embrace of technology by Aussie Rules has shown NZRU the way for match officials to deal with the vexing problem of forward passes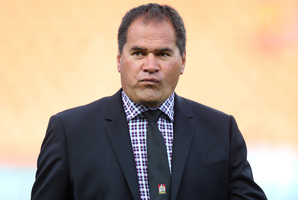 As the pace of rugby increases, so does the potential for referees and their sideline assistants to make mistakes. That is why they deserve as much support as possible. Over the past few years, that has been provided by television match officials. Their expanded use, which this year sees them examining the two previous phases in footage leading up to a Super 15 try for any infringement, is a testament to the success of this initiative. It also confirms that when technology is available to help referees, it should be seized on. Such now is the case with the vexed issue of forward passes.
The matter has been highlighted by Chiefs coach Dave Rennie, who is furious that, despite one ball clearly travelling forward and another being borderline, the TMO awarded two tries to the Rebels against his side last weekend. His anger would doubtless have been even greater if those decisions had affected the result of the encounter. In response, the Sanzar referees' boss, Lyndon Bray, has insisted the TMO was right because the hands of both Rebels players showed they had attempted to pass the ball back.
Mr Bray may well be right in principle, with the finer points of physics supporting his contention. But, as Mr Rennie pointed out, a ball obviously travelling forward will always cause consternation. "In the end, they [the referees] are going to open up a can of worms if they think they can fob that decision off with the fact that the hands are facing this way and the ball has drifted forward because there's going to be massive questions every game due to that," he said.
Mr Bray, for his part, conceded his view was a "tough sell" even if he was correct.
Clearly, the referees, their assistants and the TMOs would benefit from help. Fortunately, this is becoming available in the form of technology that was tested across the Tasman earlier this year. This saw Aussie Rules using footballs fitted with minuscule tracking devices that used GPS technology. A variation of this could surely signal when a pass went forward or, indeed, when a ball was grounded on or across the tryline. There is no good reason why it should not be introduced as soon as possible.
The usual arguments will be arrayed against this. It will be said to slow down the game and encourage referees to take a soft option. But the one constant about the use of technology is that whatever the sport, the doubters are quickly won over once it is used. Certainly, rugby games now run several minutes longer, a feature exacerbated by referees being able to check suspected instances of foul play on the big screen. But the vast majority of fans at the ground and watching on television are not complaining. Seeing on the big screen what the referee or TMO is examining keeps them involved in the game.
And what followers of rugby desire more than anything else are correct rulings. They want tries ruled out if in the lead-up there has been offside play, a forward pass, a knock-on, obstruction or some other blatant illegality. Soccer has made itself look foolish by not responding to this fundamental wish. Rugby can make itself look even smarter by using technology to enhance the decision-making of referees whenever it is available.