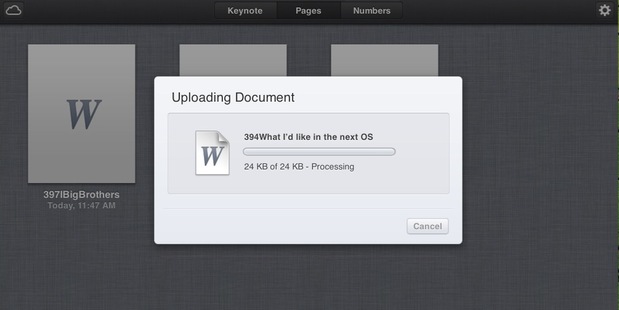 Former Microsoft CEO Bill Gates, an erstwhile champion of the tablet, feels iPad users are frustrated because they have trouble typing and creating documents.
You have to wonder how he might know this, since Apple devices are apparently banned from his home. It's the forbidden fruit in the Gates house, since the Microsoft Corporation co-founder reportedly banned his children from owning any products from Apple Inc.
The Telegraph in London reported last year that Bill and Melinda Gates' kids ask for Apple products but get Microsoft instead, even though the Daily Mail reported that Melinda admitted to sometimes experiencing iPhone envy.
Typing on iPads is certainly no trouble at all - people get used to it very fast, in no more than a day or two if not more quickly. This I noticed myself after training 400 people over a month on iPads, most of whom were completely new to iDevices and to tablets in general.
It's easy enough on the iPad glass touchscreen, although that can get painful to the knuckles and joints over lengthy sessions, but it's far from difficult, and easier still with accessories like the Logitech case/keyboard combos and the like.
On the documents side, creating a document is a cinch. But filing it is another story. iDevices save documents into the app itself, since there is no visible file structure for you to use. It's then hard to put those documents somewhere else.
So there, anyway, Bill has a point - getting documents on and off iPads (and iPhones) is a mission, and definitely something Apple, with its famed 'ease of use', could go a long way towards improving. Perhaps that will be a feature of the new iOS, number 7, which we should hear more about from June 10th when Apple holds its annual conference. We can only hope. Sure, you can move docs via iCloud but it's by no means clear how: everything hinges on the Apple ID.
Actually, if you log into icloud.com with your Apple ID (an email address) on a computer, and click on the iWork button, on Macs anyway you can simply drag documents here that will appear on your iDevice. But these are targeted at the NZ$15-each Apple apps respectively for spreadsheets, words and presentations (Numbers, Pages and Keynote).
That's easy, but did you know? And of course, to take advantage, you need those Apple apps. At least these three apps are very good. But it's increasingly a failing with Apple that processes might be available in the systems, but some are by no means intuitive anymore, or clear, or even visible if you don't know where to look.
Of course, what many want is Microsoft Office apps for iDevices. There are some third party attempts at this, some of which are pretty good but none of which 100%do the business (for its business that would like this most). But everyone who seriously uses Microsoft Office on Mac and/or PC wants iOS apps made by Microsoft, thank you. Microsoft has made iOS apps before, and certainly has made Apple apps - to the extent that some appeared on Apple's platform even before Windows, such as Excel.
Indeed, the venerable Microsoft office suite just got an update for the Mac version, bringing bug fixes plus Calibri Light, a font necessary for document sharing. This brings Office 365 closer to reality on the Mac, letting you move to a subscription model of Office software. The new update also adds an easier way to save Word files directly to the cloud services SkyDrive and Sharepoint from Macs, which in turn might tap into those potential (and oft-rumoured) Office apps - Microsoft's challenge is not so much to make Office apps for Apple iOS, but to give them a clear and usable filing/movement system. In other words, create a document on your tablet and easily, without acrobatics, get it onto a computer and vice versa.
Apparently, Microsoft Office apps were nearing completion but may have since been delayed until 2014.
I'm no expert on Microsoft Office for Mac, I admit. I used to be OK with it - I have even trained Microsoft staff on using it, for Mac. But when I migrated to the latest MacBook Pro, I decided not to put Office on the new machine since I had a limited-space SSD as my internal drive. I use (and have done for a decade, actually) Nisus Writer Pro for the bulk of my writing (all 401 of these Mac Planets were written in Nisus - it has a NZ English dictionary, among many other localities). It's fast and a joy to use, and again opens and saves Word documents. I use Apple's Numbers for my spreadsheets, since it opens and saves Excel docs anyway, should my accountant desire one. Numbers doesn't do the advanced accounting that Excel can do, but hey, I don't do that either. I'm not even sure what it is.
Keynote is a marvellous presentation package on both iPad and Mac, and once again can open and save PowerPoints.
For eBooks, I use Apple's Pages, and I also use it for occasional docs, and it's handy on the iPad as a word processor with easy-to-use graphics layout capabilities, plus I like the way its interface is very similar to the Keynote and Numbers apps.
But for the MagBytes monthly macnz newsletter I use Adobe InDesign on my Mac - it simply has no peer. Photoshop's another regular in my arsenal, but I might have to shift to the well-regarded Acorn image editor for Mac if Adobe's new subscription model works out being too expensive.
A study has shown that if you 'rent' (which is what subscription really means) the whole Creative Suite, you've paid the same as the boxed copy in two years, and the cycle for the box was normally three to four years. On the upside, who uses all of Creative Suite's titles? I certainly don't - there are some I have never even opened apart from to review. Being able to rent only the parts you need could save you big time, and certainly be more efficient.
As software moves into the cloud, we need to know how to move our docs around safely - and it has to be, or become, intuitive.