Adventure tourism inherently carries risk, writes Martin Sneddon. But the customer has a right to expect that avoidable risks are eliminated.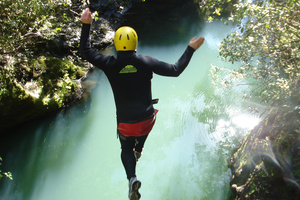 I know I'm on a hiding to nothing sticking my head up to defend the safety culture within New Zealand's adventure tourism industry. This week the coroner passed down his verdict on the cause of the Fox Glacier crash, which took nine lives, some of them international visitors. The families are naturally still grieving and have a right to express their views, but some things have to be said.
A Herald editorial was right to say avoidable safety errors either directly caused or contributed to the Fox Glacier crash. But the emotion around this, which will almost certainly recur when the results of the Carterton ballooning accident investigation are made public, shouldn't obscure the fact that significant safety improvements have been made within the industry since the results of the 2009/10 Labour Department adventure safety review.
Adventure tourism inherently carries risk. No amount of risk management can eliminate this.
But the customer has a right to expect that avoidable risks are eliminated. Sadly, that wasn't the case in the Fox Glacier crash. No one is trying to defend these types of accidents, but we are focused on applying the lessons as quickly and effectively as possible.
Adventure Safety is one of five major strategic priorities for my organisation, the Tourism Industry Association (TIA), which has close to 400 adventure and outdoor operators among our 1500 members. We have two skilled senior staff members dedicated fulltime to delivery of this strategy.
In early 2011, the Department of Labour contracted TIA, with the support of Outdoors New Zealand, to create a website dedicated to safety in adventure tourism. SupportAdventure.co.nz, launched in May 2012, is the first website of its kind in the world. It includes comprehensive safety information and advice, and acts as a benchmark for operators and regulators. It has come from the industry and is being used by operators.
Since 2011 TIA, using the skills and experience of a number of senior private adventure operators and other experts, has embarked on a detailed and intensive process to create world-leading adventure safety guidelines customised for specific activities. The first set of these - covering canyoning, caving and indoor rock climbing - are complete and in use now. The next set - covering heli-skiing, quad-biking, high-wire crossing, and abseiling - are under development and will be launched later this year. TIA will continue this process until all high-risk adventure activities have been dealt with.
While these are guidelines rather than regulations, operators know that, in the case of an accident investigation, their actions will be judged against these standards. The fact that these guidelines have been developed in concert with operators has given them much greater accuracy, credibility and speedy acceptance by operators.
A key difference between guidelines and regulations is their ability to be changed quickly in light of new information within a dynamic sector.
In addition, both TIA and Outdoors New Zealand have provided strong support and advice to the Labour Group (now within the Ministry of Business, Innovation and Employment) and operators on safety initiatives around the new adventure activity regulations, such as external auditing, registration, and drug and alcohol testing.
Over and above this, since the Fox Glacier crash, changes have been made in the adventure aviation sector. CAA regulations have been tightened. Safety awareness has heightened.
In the 2009/10 Labour Department review, there was recognition that most operators were responsible and safe but a better risk management framework must be established.
Operators did not resist those findings and have enthusiastically been part of the process.
Tomorrow in Wellington, TIA is hosting an adventure and outdoor tourism conference. Safety, and the events of this week, will be firmly on the radar of all conference delegates. Within the emotion of these incredibly sad and avoidable accidents, please don't underestimate what has already been, and what is currently being, achieved.


Martin Snedden is chief executive of the Tourism Industry Association.