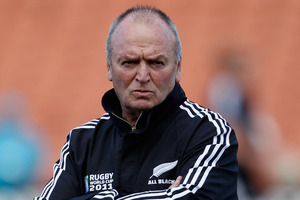 There are many reasons why New Zealand teams have been struggling in Super Rugby. Some will seek to explain it away by calling it cyclical. There are some clear factors - Gregor Paul's story on the comparative lack of All Blacks either playing or in form is one; Australian players' desire to make the Wallabies team against the Lions another.
There is another real possibility - that the overriding emphasis on the All Blacks is beginning to affect our Super Rugby capability. It's a mindset thing that goes right back to the rotation, rehabilitation and reconditioning theories of Sir Graham Henry's All Black panel.
The rationale behind rotation and its r-word cousins is sound. Manage player welfare and allow them to peak at the right time; allow them, too, to lengthen their careers by not burning them out and building depth. If those theories are applied in a full-strength Super Rugby campaign by full-strength Super Rugby squads, then maybe that would be fair enough.
But that's not what is happening these days.
It's hard to point the bone at current All Black coach Steve Hansen, a highly likeable man who has done so well with the team so far that even the hiding delivered by England at the end of last season has passed largely unremarked. There is even, in that defeat, support for the three Rs - the All Black season so long that the team was fatigued by the time they got to the England fixture.
Maybe so. But there is another perspective. Many of our best players are experiencing a much more cosseted existence and that, surely, is not a mindset which sits well with high performance in top sport.
Look at what has developed in New Zealand rugby over the past few years:
• Sabbaticals - Richie McCaw, Dan Carter and the like? Fair enough. Hika Elliot? Not so much. The art of retaining players by granting them sabbaticals, allowing them to cash in on the money/lifestyle advantages of playing overseas, is now common.
• Lateness - All Blacks are being encouraged, in some cases, to return to first-class rugby late or unfit. Doing so has so far not always proven to be rewarding either to the individual concerned or the franchise.
• Form - All Blacks are also tacitly being told that a lack of Super Rugby form, within reason, will not be held against them.
This is a dangerous game to play. It is rewarding top players for not playing or not playing well. It is allowing them - encouraging them, even - to find new and creative ways to opt out, under the banner of player welfare and management.
It was not that which made New Zealand rugby great. In the past, the All Blacks were a difficult club to break into. The desire, upon entry, was not just to belong but to become a great All Black. Opting out was not on. If you did, someone would take your place. You always played your best team because the team wanted to be the best; so did the individuals.
Granted, the game has changed since the days that the All Blacks' unspoken mantra was 'never give a sucker an even break' - meaning that you held on to your jersey and your position at all costs because someone from the great well of talent would usurp you. Granted, the game is played at a greater speed and level of mental and physical intensity. Granted, the modern game takes a bigger toll on the human body.
But the ever-present danger is that we will produce a new, softer breed of rugby players, whose mindset is more about sabbaticals and reconditioning than it is about winning at all costs.
Clearly there is a balance to be obtained over a period of years; the big picture is still being painted; the jury is still out, if you'll excuse the mixed metaphors. But you do wonder about the wisdom of creating a mindset where looking for the out is approved; where the long-term soundness of Super Rugby may be undermined, even if Super Rugby form does not always translate to international form.
Basing international performance on a system which does not require the best to give of their best seems highly risky. Okay, the cotton wool club helped deliver the 2011 World Cup. That was two years ago. Times have changed again. Teams like England have moved on.
NRL players often play 26 games a year (plus finals), some play three State of Origin games and one or two tests - let's say a total of 30 matches for top players in a season that stretches from March to almost the end of the year. All Blacks, assuming they play a full Super Rugby card and tests, have 20 rounds of franchise rugby (plus finals) and up to 14 test matches (though it has been as many as 16) from February to the end of the year.
Clearly some form of player management is needed, even before you enter the vexed territory of trying to compare the intensity of two codes. Rugby league, proud of its rugged physical attributes, has maintained its "backing up" tradition - where players in State Of Origin on, say, a Wednesday, often play for their club on the following Saturday. That would never happen in today's All Black world.
The worry is not so much today but what successive generations of the "opt-ing out" syndrome might do to All Black rugby. Will we be producing world beaters or lotus eaters, the mythical race who ate the sweetly narcotic lotus plants of their island home and who were lulled into a sense of contentment?