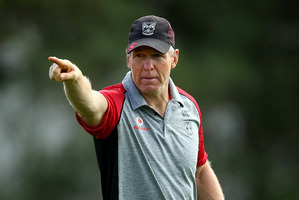 Are we looking at smoke signals or a smoke screen when it comes to Matt Elliott and the Warriors?
Coach Elliott was supposedly stunned that top Australian league players don't want to join his club. He shouldn't be. For starters, Elliott himself is hardly a superstar magnet. His win record is an uninspiring 44 per cent over 250 games at three clubs, and he's not come close to a title. His Warriors are running last. Moreover, since James Maloney left they don't have a reliable playmaker. Why would a top Aussie come here?
Money does talk, but only so loud. Former Melbourne centre Dane Nielsen - who joined the Warriors this year after signing in early 2012 - admitted the club's disastrous plummet and associated sacking of Brian McClennan late last year made him wonder if he had done the right thing. Elliott, however, implied that a "blockage" prevented top Australian players shifting to Auckland.
"My perception of Auckland was the Crowne Plaza and Mt Smart Stadium, so I didn't think Auckland was the beautiful city it is ...
you get in a bus, and go to an industrial estate and play at Mt Smart, which was always a pretty daunting experience," he was quoted as saying.
This is among the strangest excuses I've heard of in sport.
Players no doubt baulk at Townsville or Brisbane or Melbourne or Canberra or Sydney. Different folks, different strokes. But a good club will attract good players wherever it is, and Aussies such as Steve Price - who still lives here - Micheal Luck and Brent Tate have been happy in Auckland.
Moving cities for professional sporting reasons is not a life sentence either. There are, for instance, outstanding soccer players from famously sunny spots who seem fairly happy in Manchester at the moment. But they ain't going to live there forever.
Here's the question: what direction does Elliott intend taking the Warriors, especially after their interest in English Super League players - including the 24-year-old backline whiz Sam Tomkins - was revealed. My understanding is that the Warriors' Holden Cup coach John Ackland, who is unhappy with the direction of the club, will quit at the end of this year.
Elliott talks a good game, but he isn't playing it. After just seven rounds we've got six losses, bad refereeing calls, industrial estates, Auckland's scenery, Aussie relocation blockages, a dissertation about the state of English league, the merits of rugby players, plus the junior coach/top scout leaving.
Elliott's introduction to Auckland has been underwhelming, disorienting and a touch concerning.