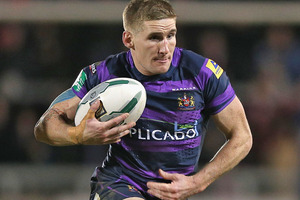 Justis Kamu looks at the feasibility of the Warriors signing English fullback Sam Tomkins as well as the other key talking points in the NRL this week.
1. Transfer fee will stump plenty of clubs
Last week Warriors coach Matt Elliott confirmed the club was interested in signing England fullback Sam Tomkins for next season. But before Warriors fans or any other NRL club get excited about the possibility of England's best player heading down-under, the earliest anyone would see him plying his trade in the NRL is the 2015 season. That's because his water-tight five year contract won't allow him to leave Wigan this season.
Tomkins re-signed with the north England club in 2011 till 2016 to make him Super League's highest paid player. A key clause in that agreement is that he is guaranteed to stay a minimum of three years which takes him through till the 2014 season. The last two years of the contract offers the 2012 Super League Man of Steel the option to exercise a move to the NRL, rugby union or stay put.
However clubs that wish to release him for the 2015 season will have to cough up a significant transfer fee. Potential suitors would be required to pay a compensation fee exceeding $500,000 pounds ($NZ 900,000) for his remaining two years.
This contractual situation isn't unusual for Wigan or the Tomkins clan, his older brother Joel was on a long term deal at the club, forcing Saracens to pay a transfer fee of $250,000 pounds ($NZ 455,000) in 2011.
While the fee won't be included in the NRL salary cap his current wages of around $300,000 pounds (NZ $545,000) will have to be bettered - thus adding further strain to an expensive player acquisition.
The Warriors aren't typically a club that push the upper limits of their salary cap. So if Tomkins is on their radar they will certainly have to make a substantial financial investment in bringing him to Aotearoa.
2. Pitch invaders disgrace pacific test
Mate Ma'a Tonga's 36-4 victory over Toa Samoa was a superb spectacle that lasted for 79 minutes and 15 seconds at CentreBet Stadium on Saturday evening. The final 45 seconds of the encounter was never played as an overzealous spectator ran onto the pitch took the ball off the kicking tee and dashed off as Tongan standoff Samisoni Langi lined up a conversion.
That incident instigated a pitch invasion bringing the match to an abrupt end and forcing referee Matt Cecchin to blow the final whistle while the stadium announcer called for fans to leave the field. It was an unacceptable ending to a game that arguably surpassed the weekend's other representative ties in terms of passion, excitement and entertainment.
Throughout the match the loud and boisterous fans created a festive atmosphere to accompany the ratting hits and attacking exploits of the on-field performers. While no violence occurred, no damage was done to any property and players did not fear for their safety during the pitch invasion.
This was an international test match which finished in scenes of a local club game - in saying that even amateur games last 80 minutes. Revellers at the test match could also be seen bear hugging the goal-posts during regulation time - another act which is isn't acceptable at the grassroots level.
Still it was potentially an unsafe situation to be in for fans and players alike.
The security team (or lack of one) at the Penrith ground must also be held accountable.
One general condition of entry at the stadium reads that any patron - found gaining unauthorised entry into the field of play - will be evicted from the venue and liable for prosecution. That condition didn't appear to be adhered to and in future should be exercised by stadium staff if future test matches are to be staged at the ground.
3. City v Country holds little significance in professional era
The City v Country origin match which acts as a trial match for the NSW side should be abandoned from the football calendar. Formerly it helped to serve as an added advantage for NSW players to play a standard of football that was of a high quality and close to the level of State of Origin. As well as provide a platform for country fans of league to watch their juniors, who are now fulltime professionals, take on the city slickers in their own backyard.
What was traditionally a prestigious encounter for NSW eligible players is losing its shine as players opt out of it to nurse bumps and bruises from their club games. The absence of Robbie Farah, Mitchell Pearce and Josh Reynolds to name a few coincided with the views of other players and coaches who don't want to see their players at risk of a major injury in a fixture that offers no selection guarantees.
The complex issue with trial matches at any level of sport and this one in particular is that it offers no assurances for players who perform well. It's understandable that coaches have a skeleton side heading into the trial match and have favoured players for certain positions.
That is no different for Laurie Daley who for stated prior to the City v Country match that Pearce had already secured the halfback jumper. But where does that leave players like Adam Reynolds or Boyd Cordner - outsiders for the side who made a strong impression on the weekend?
If the NRL is concerned that bush league communities will lose money from not being able to stage this match, a couple of competition matches could be moved to these remote areas to take its place.
The State of Origin sides will be named following the round 11 matches of the NRL so players who may have had a mediocre performance on the weekend still have three weeks to undo any concerns surrounding their form.
Further, the game's significance was diminished with expensive ticket prices at $60 for a grandstand seat resulting in just 4,635 spectators in attendance.
4. Kiwis that stood out in the ANZAC test
Kieran Foran - The stand-in Kiwis captain looked a natural fit with the skipper's armband. He did not shirk the responsibility and his cool head and confident debating with referee Ashley Klein was inspiring considering that he is 22 years of age. Also he was the chief conductor for the evening and played like he does at club level - direct with the ball in hand attacking the defensive line and accurate with the boot to the ball. His perfectly timed pass to Frank Pritchard's angled run set up the Kiwis second try.
Ben Matulino - His fresh legs during his two 20 minute stints kept the pressure on the Aussies who had to deal with his mobility and footwork for a big man. His impact off the bench was immense as chipped in with 125m, one tackle bust and three offloads.
Jesse Bromwich - Although playing just his third international test match, Bromwich is going to be a mainstay in the Kiwis lineup for the many years next to Matulino. He had an exemplary performance making 144m for a team high, completing 25 tackles and two offloads.
Issac Luke - He demonstrated why is he now regarded as the second best hooker in the NRL with a fine effort in 80 minutes. The fast Australian defensive line didn't give him much room to get his running going in and around the ruck area but he still managed a healthy return of 62m, one tackle bust, 38 tackles and one offload.
5. Your comments
From That Maori Fulla
Unless NZ has their own State of Origin. There will never be a side confident in defeating Aussie. We have players that go from Club to Country. They have a second tier comp that is considered to be first tier quality, and unless New Zealand implements one.
- That's a concept that is sorely needed and a kiwi equivalent was being prepared by the NZRL to be held in 2014. It was hoped that the Kiwi SoO if implemented would help provide a pathway for young kiwis to play for NZ. Also from a playing perspective it would make the Kiwis side a tougher international opponent as it would mean their players playing together more often, building up key combinations. There hasn't been much discussion about this concept by the NZRL recently so until a match is actually finalised for next year we will have to make do with the status quo. The Rugby Football League has seen how SoO has benefited the Kangaroos and has implemented its own origin series in the International Origin - Exiles v England RL. A team of overseas players in the Super League competition lineup against the England side in a two game series. That two game series will give them a mid-season international at a high standard which will benefit their international side in the long run.
From Up the Guts
When Kamu goes out at a whim, he really exposes himself as just another average pub opinion. Hodkinson a "matchwinner!" Did you watch the Dogs game last weekend where he was lost and uncreative as usual?
-Norrie is a ridiculous call. The Warriors have four of the best props in the NRL already and Norrie is error ridden at crucial times( see Jeremy Latimore)
-In defense of Leuluai, from your article last week, he is a distributor type standoff, who is more keen to involve his teams firepower such as Hurrell, Locke, Vatuvei, Laumape etc. His defence is far superior to Maloney's, who if this far fetched call for him to make Origin occurs, he will be left exposed as the overated NRL player that he is. Carney and Josh Reynolds are class, Maloney is a lil' Aussie battler who will not outplay Thurston!
Agreed Hodgkinson wasn't at his best last week. That was his first game this season and he hadn't appeared in first grade since round 12 in 2012. He has represented City Origin after his strong displays in 2010, so he is no slouch. Although he's a halfback shifting to standoff or vice versa is not an uncommon transition.
The Warriors do have four of the best props in the competition yet it's a long season and other factors need to be taken into consideration such as injuries, poor form and suspensions. The Warriors need five to six decent props competing for spots not four standouts and three inexperienced backups. Norrie will provide quality competition and is a reliable performer for the Craig Bellamy at the Storm.
For a man his size, pound for pound, Leuluai would be one of the better defenders in the NRL. Yes, distribution is his strength and that would be best utilised if he were in the hooking position where has won a World Cup with the Kiwis. In saying that he is looking more comfortable at standoff but when Leuluai plays out of dummy half he is world class.
6. Team of the week - representative round
1. Fullback - Billy Slater (Australia)
2. Wing - Akuila Uate (Country)
3. Centre - Mahe Fonua (Tonga)
4. Centre - Siuatonga Likiliki (Tonga)
5. Wing - James McManus (Country)
6. Five-eighth - Samisoni Langi (Tonga)
7. Halfback - Josh McCrone (Country)
8. Prop -James Tamou (Australia)
9. Hooker - Cameron Smith (Storm)
10. Prop - Fuifui Moimoi (Tonga)
11. Secondrow - Jason Taumalolo (Tonga)
12. Secondrow - Greg Bird (Australia)
13. Lock - Trent Merrin (Country)