WTO bid deserves support rather than penny-pinching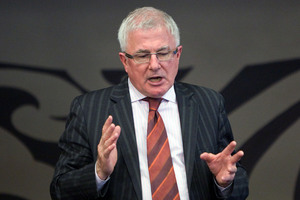 The Green Party is upset that Trade Minister Tim Groser's international travel costs soared to almost $250,000 in the first three months of this year as he lobbied for support for his bid to be the director-general of the World Trade Organisation.
True, that sum is more than the combined totals of the Cabinet's other frequent flyers - the Prime Minister, the Foreign Minister and the Defence Minister.
But it pales into insignificance when viewed alongside the potential gains for this country, and for global trade, if Mr Groser were to succeed Pascal Lamy at the end of August.
He has always been something of a long shot for the post, simply because another New Zealander, Mike Moore, held it as recently as 1999 to 2002.
But Mr Groser has succeeded in making the shortlist of five candidates, all of whom are from Latin America or the Asia-Pacific region. A second cull this month will leave two to compete for the job.
Mr Groser's survival so far reflects the widespread respect he earned when, as this country's ambassador to the WTO, he chaired the Doha round of negotiations on both rules and agriculture.
The knowledge and experience gained from these ventures into areas of huge complexity make him the candidate most likely to achieve a successful conclusion to the Doha round talks.
It may well be that the fact that no director-general has ever come from Latin America will thwart his bid. That, however, is no excuse for pettiness.