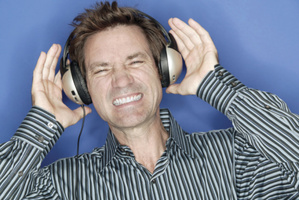 The morning after the night before, there are usually a few clues to tell you whether or not you've overdone things in terms of the consumption of units of alcohol. At one end of the spectrum is waking up in a strange house or suburb or city with no recollection of how you got there; or in the holding cell of a police station with the name "Rosalita" tattooed above your heart and strange bruises about the rest of your person. At the other end of the spectrum is simply waking up feeling just that little bit seedy and in need of a glass of water.
At the lower end of the spectrum, for me, is the phenomenon of waking up with a song, or a phrase from a song, stuck in my head. I don't normally wake up with a song in my head (because I don't normally wake up after having had a few wines too many) but every now and then I do and it is a sure sign that I over-indulged, just a teensy bit, the night before.
I don't know why this is the case. I certainly don't know if this is normal.
For all I know this may be an underlying symptom of some kind of greater psychological malady and in the days that follow the publication of this column I will receive partial diagnoses and offers of treatment from health professionals who work with the bewildered. I certainly hope not.
Normally I wouldn't talk about such a personal phenomenon except for the fact the other morning, after a wine or two too many while watching the Blues/Highlanders game on television, the song I woke up to the next morning was Boney M's Rasputin.
To say I was mortified at having Rasputin stuck in my head is something of an understatement. It was a far-from-ideal start to the day. But the deeply mystifying (and troubling) thing about waking up to the phrase "Ra-Ra-Rasputin, Russia's greatest love machine" on a loop in my brain was not knowing how it got there in the first place.
Normally when I wake up with a song in my head it is because I have heard that song somewhere on my travels the previous day, or while in the process of drinking the wine or two too many. This incidence of Rasputin, however, had cropped up out of absolutely nowhere.
Let me tell you for a fact that living with Boney M's Rasputin in your head is not easy; twitching uncontrollably every time it floods the cranium, arriving unbidden and insistent, like a courier at your door first thing in the morning. A bit like me standing at the front door in my dressing gown, scrawling random squiggles on one of those electronic-signature-thingies, it is not a good look.
And then there's the whole phase of trying to read meaning into the song itself. Why Rasputin? What does Rasputin, the man, mean to me that he has disco-danced his way into my brain? Seriously, he was Russia's greatest love machine? Jeez, the man looks like James K. Baxter on a bad day. Not a good advertisement for the Russian male, if you ask me. Mind you, on the other hand, Baxter did okay for himself...
So what, exactly, is my brain trying to tell me by implanting one of the worst songs of all time into my consciousness?
Is 1978 trying to send me a message? Is Euro-disco about to make a comeback and this is like a portent of the horror to come? Was it a warning from my liver that if I continue to have a few wines too many it will keep sending crap songs to my brain until I stop - Crazy Frog's Axel F and the entire Michael Bolton back-catalogue are in there, just waiting to be unleashed.
Or is this a much more portentous warning? Like it says in the song: "and so they shot him 'til he was dead". Is someone coming after me, possibly a disgruntled James K. Baxter fan for suggesting the great poet looked anything like Rasputin? This has to be considered a possibility, because as I have no idea what my brain is telling me, all possibilities have to be considered equally. Good times ahead - possibly.
Still, I suppose I should count my blessings because, believe it or not, there are actually far worse Boney M songs to be stuck in your head - Brown Girl In The Ring for example.
Damn, now that's stuck in my head as well and I haven't even had any wine.
Curse you, cruel and unfair brain!