As favourites emerge, remember the adage that 'he who enters the conclave as a pope leaves it as a cardinal'.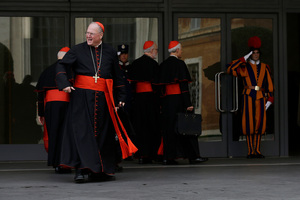 Last week, the Herald featured a delightful cartoon by Guy Body, showing rows of small cloned cardinal lookalikes, one of whom was saying, "Well, brother cardinals, shall we start the selection process?" It looked like Hobson's choice.
To those not familiar with the 115 cardinals who will begin voting tomorrow to elect a new pope, this might be an easy impression to form. Television footage has featured processions of elderly men dressed alike, with only height, girth or ethnicity as distinguishing features.
Despite their common maturity, however, each cardinal brings to the conclave his unique personal and cultural background, as well as the blend of pastoral, administrative or missionary experience he has gained over the years.
Many are relatively new and haven't had the opportunity to form impressions of their brother cardinals, let alone share views on the challenges facing the church.
Hence the series of meetings over several days both in general sessions (a likely 12 by tonight) and in smaller groups, before they felt ready to set a date.
The excitement is increasing around St Peter's Basilica as people arrive for this historic time and discuss the perceived needs of the church and the strengths or weaknesses of candidates. It is recognised that much is at stake in this conclave, perhaps more than ever before.
A number of candidates' names keep surfacing with the Vatican-watchers and in the international media, yet we are reminded of the old saying that "he who enters the conclave as a pope leaves it as a cardinal".
There is a strong belief here in Rome that with no clear frontrunner, the process is likely to take longer than the two days of the last papal election in 2005. This will be the 10th conclave to be held in the past 100 years. Of the last nine, only two took five days but most lasted for two, including that which elected Pope Benedict in 2005.
It could boil down to a choice between a candidate backed by the Roman Curia cardinals and their allies, and a candidate put forward by cardinals intent on radically reforming the Curia after tensions between these two factions.
People familiar with the workings of the Vatican are openly discussing the crisis of governance that has been uncovered or at least brought to the surface by the recent "Vatileaks", which points to serious trouble in the Curia.
That famous English priest, theologian and writer of the early 20th century, Monsignor Ronald Knox, when asked why he didn't visit Rome, said, "He who travels in the barque of Peter had better not look too closely into the engine room."
In the final days of his pontificate, Benedict himself referred to these problems. In his last public audience, it seemed that Joseph Ratzinger spoke from the heart to the thousands who gathered to hear him, and he was applauded at length when he spoke of the church as "not an organisation, not an association for religious or humanitarian purposes, but a living body, a community of brothers and sisters ..."
And in his final speech to the cardinals the next day, he reminded them that "the church is not an institution devised and built at a desk, but a living reality".
In his surprise resignation address to the cardinals, Benedict said that after much prayer and consideration he was doing it for the good of the church.
Clearly, he believed that in order to untangle the difficulties and challenges that face the church, a man of greater energy and toughness was required.
One cardinal said afterwards that Benedict felt he had to sacrifice himself if reform was ever to take place.
It's exhausting to try to read the sheer volume of comment about what and who might lead the church effectively in tomorrow's world. The respected Vaticanologist, John L. Allen, sums it up very well:
"Of course, no one human being could ever perfectly capture everything the cardinals might want when they go shopping for a pope: a living saint, an intellectual giant, a political heavyweight, a Fortune 500 CEO, and a media darling who turns the world on with his smile. Inevitably, they'll have to make compromises, looking for someone who comes close enough on several of those measures to seem a credible candidate."
What is certain is that there are no certainties. And we can't discount a surprise such as happened in 1978 after three days of balloting when a relatively unknown Polish cardinal emerged as Pope John Paul II.
Lyndsay Freer of the Auckland Catholic Diocese media and communications office is at the Vatican for the conclave.