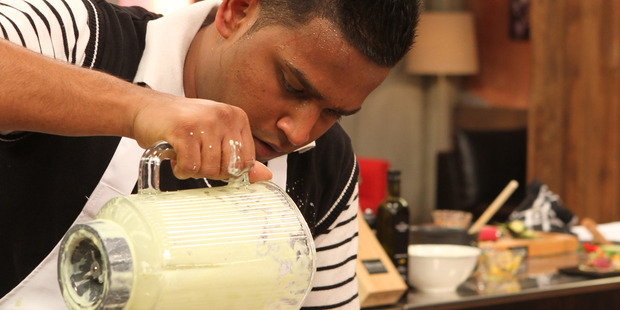 "I'm thinking is it going to be Asian? Is it Thai?" The surprising thing is Corinna, by considering and being excited by other cuisines, seems to be in the minority.
Despite contestants going on endlessly about what they've sacrificed to make it this far - jobs, family, the right not to be immaturely satirised in a blog - it is bonkers that some of them clearly didn't consider the kinds of cuisines they would encounter on MasterChef.
In New Zealand, Mexican seems to be the cuisine de jour. If you were as serious about MasterChef as the furrowed brows and tears would have us believe, wouldn't you have at the very least had a couple of tries? Along with Thai, Indian, Spanish, French, Japanese?
I'd go further. Mystery Box dinner party? Sounds good to me. But wouldn't you be doing that every week leading up to the auditions? Yes I know buying extra ingredients for this kind of thing can be a stretch for those of us who live payday to payday, but isn't it cheaper than, say, giving up your job to go on TV?
Three weeks in and we're starting to learn the different contestant's motivations. For some it's to further their careers. Some of them even seem to like cooking. For Sushil it appears to be a kind of higher calling. But while his heart is in the right place - "My heart was just beating through my apron," - his skills don't match his enthusiasm.
The next few weeks are really about clearing out the also-rans and in this season there are quite a few. Yes it's early days but there only seems to be about four people capable of taking on The Aronator.
I'm pretty excited about Mexican. A year ago I was in Austin for the SXSW festival and even their Texmex variation makes my mouth water, and I'm up for any knowledge that means I never have to buy a bloody taco kit again.
Once the cooking finally starts I see something that will forever change my life. With the fast-paced editing it's hard to tell who, but there is a close up of someone chopping a red onion. I've had mixed success with my knife skills but chopping an onion to a restaurant kitchen standard has always been outside my comfort zone.
I see now where I've gone wrong, whoever it is, and lets assume it's Aaron simply because he's The Man, is using a small knife to make those initial sideways cuts before turning 90 degrees to finish it off. Till now I've used a large cooks knife and been upset that I can't do it as fast as Ray McVinnie does when I've seen him host a Masterclass episode. That man is lethal with a knife. Luckily when I see him at food events he isn't holding one.
Serena admits to Gault and guest chef Jose Carlos de la Macorra that she has never cooked Mexican. She should have left it there, but then offers up that she has made those dinner kits. Ay Caramba!
But the real awkwardness comes later when David, you know the dance-party promoter looking one, gets a visit from Josh Emett. David has forgotten to get his tortilla ingredients and recipe - so is essentially free-balling.
Along comes Emett with that suit and that jaw and drops in some sarcasm about it not being important. David continues the sarcastic theme in his reply but Emett doesn't seem to get it and it all goes south of the border. Later, David burns his hand on a panhandle, but it was the run in with Emett that looked more painful.
Elsewhere Michael is making ice cream, which is the kind of madness you'd expect from someone who is either brilliant or, well mad. Perhaps he's one to watch too.
But there is no such dilemma about Sushil's avocado milkshake. It's a dog, and Gault knows it's a dog. You can spot the terror in his eyes as he remembers that later he will actually have to taste it. Sushil's sweating, and Gault certainly doesn't wanting to be tasting that later and says so. But later when Sushil spills his shake on the plate things are getting so slapstick I'm beginning to think I'll miss him when he's gone.
Once time is up pretty much everyone looks battle weary. Several contestants say they're positive they're going home, which I take to mean they don't end up going home.
David finally calls a medic over to tend to his hand, which highlights the fact that the contestants must be able to choose whether they get medical attention or not, which seems odd.
Raheel's Mexican bar food looks amazing and does what it says on the tin.
"It looks like something you'd get in a bar," says McVinnie.
It may just be good luck on Raheel's part - she admits she's previously worked at a Mexican-themed bar - but by now I'm glad I put her in current favourites last week.
Sushil comes along next with his mess three ways. "I'm just hoping and praying to God that they really like this dish." But all he can really hope for is someone doing worse.
Despite sending most people away before tasting, the judges opt to taste the milkshake in front of him, to really twist that knife.
"Do you think we're going to like the avocado milkshake?" Gault goes in for the kill.
"Um, yep... I do."
McVinnie with the double-team. "Do you like it?"
"I'm not very happy about it." Oh Sushil.
Despite the mileage the show is getting out of Kris' very visual error with the tortilla presses, he may well be taking the "quiet achiever" role away from David. There is always one or two who coast along before stepping up as it gets to the business end. Plus he seems to get flavour.
"Dessert, what the hell were you thinking?" Emett asks Michael. Well he was probably thinking about challenging himself and doing something creative while still keeping sight of the right flavours. You know, the kind of thing you encourage them to do. Emett does seem to be a bit shittier this season.
"I tell you what," says Gault. "If that tart had been cooked right the way through, I reckon we'd all be sitting here going holy smoke that's sensational." Totes.
Aaron's up next and I agree with de la Macorra. "There's really not much you can say except well done." I wonder what Aaron's book will be called.
For some reason Gault keeps going on about how Ella really mastered the tortilla press. At the risk of sounding like an armchair critic, what's so hard about using a tortilla press? You put dough in and close it. A bloody garlic crusher is trickier.
"Well you used it today like you'd used it a hundred times," Gault grinned. She's a student, so all that toasted sandwich making has obviously paid off.
Jennis was perhaps the biggest surprise of the day. Her basket-inspired tortilla didn't look to me as though it had judge-wowing capabilities, but even grumpy old Emett was impressed.
Actually I take that back. Eliott was the biggest surprise of the day. One look at his bland looking plate and I was getting excited about some utu for last week's hangi fracas. It wasn't to be. Despite a plate of bland looking cuts of meat, McVinne spoke for them all, "he definitely took us to Mexico." Well it must have been overcast that day.
Serena on the other hand had plenty of colour but not much else. Not even a name. Gault asks what the dish is.
".....Spicy, fruit.. chicken?" Uh oh.
Considering David forgot his tortilla, his plate looked really appetizing. Stuffed jalapenos, ceviche with loads of coriander leaves, almost chocolate-coloured spiced beef with the corn salsa, yum. It's the opposite of Eliott's plate, to me. But not to those who know what they're talking about.
"There's a lot of soft mushy going on and not a lot else," says Emett, but it's McVinnie who turns off the lights.
"The salad is heinous."
In the final lineup David and Michael are singled out, then told to return to the line. Is that Josh getting one back on David, still smarting about their earlier run-in? Then we haven't even got through some of the contestants before... Shushil and Serena are told they're bottom two. They're mixing it up! Although Gault's back to his old tricks. "It was more taco hell than taco bell."
"That's the worst comment that you can hear from one of the judges," Sushil says, he got that right.
Well maybe apart from the one Serena got, "it's time for you to leave the MasterChef kitchen."
I've no doubt that dinner at Serena's would be great, but she and many before her entered a competition that requires way more than just mastering their own comfort zones.
Episode 4
Best line: "My heart was just beating through my apron." Sushil Ravikumar.
Worst line: "It was more taco hell than taco bell." Simon Gault.
Current favourites: Aaron, Raheel
Episode 1: Fourteen Grand Up
Episode 2: A Route Of Pleasure
Episode 3: Keep Blowin' Brother
-nzherald.co.nz