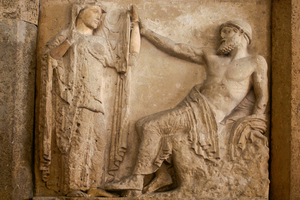 Anglican minister and writer Ron Hay, in his opinion piece headlined "momentous shift a loss for us all", set up a final call against more inclusive marriage from the argument of "common good".
While his assertions try to stay rational and cover traditions, history, cultural heritage, legacies of wisdom, nurturing of children, the rights of heterosexual couples for their own distinct relationship term and "common good", the most striking issue in his opinion piece and generally from the religious voice on this issue remains an utter lack of any vestige of love. That's ironic considering the institutions involved, the church and marriage, are both supposedly based on love.
What exactly is "the common good", and why is a major institution such as the Anglican Church in Britain falling back on this term in discussions on morality and social ethics? The common good is a concept going back thousands of years and is found in the writings of Plato, Aristotle, and Cicero.
John Rawls, a modern ethicist, asserts the common good as "certain general conditions that are ... equally to everyone's advantage". The Catholic religious tradition also promotes the common good, defining it as "the sum of those conditions of social life which allow social groups and their individual members relatively thorough and ready access to their own fulfilment".
The modern world no longer accepts the "divine law" formula as the rock for ethical authority, and rational alternatives now need to be expressed.
Following the secular world's challenge of the "divine law" formula, other ethical alternatives such as meta-ethics and comparable ethics have be proffered as platforms for modern moral dialogue. But these presuppose the external viewpoint of a neutral observer, which as recent emotive discussions on marriage change has proved, is pretty much impossible. As two sides speak emotively from different bedrocks on the ethical debate, we give the power to the Government in the hope it will decide.
But what is its advantage and authority? Many who will decide this issue within our MMP system are in Parliament from party lists and were not voted in as our representatives.
The problem with this debate - and most modern ethical debates - is that people are talking from different value systems. Consequently most modern debates are simply expressions of opinions, individuals shouting from their values at each other across a divide.
In the secular world's quest for an objective criterion for common values within the common good, we have human rights. The religious rely on "divine law" and require to be exempted from legislation such as human rights legislation when this is challenged. This has set up a great abyss that requires gifted and inspired leaders to sort out.
Hay comments that societies such as ancient Greece never contemplated equating homosexual relationships with marriage. To know marriage in ancient Greece is to acknowledge that marriage is subject to change. In Athens in the 400s-300s BC, which is when reliable records begin, marriage was considered to have occurred only with a ritualised acceptance of a dowry or a promise to do so. Love didn't come into it or certainly was never the focus. The ceremony did not involve any priests or priestesses because it was not religious but about procreation. The object of marriage was to have children and women were judged on their ability to do this. Greek divorce was about as simple as it could get. A husband could dismiss his wife from the house or a wife could decide to walk away.
I have no doubt that the laws on marriage will be changed because the Government manages these laws and has as its focus universal human rights. Churches will inevitably be given exemptions and allowances to deal with the changes in a continuation of the sad shuffle of church and state to other ends of the room. The best response to issues of disunity and difference is, as always, love, compassion and mercy. When the shouting across the divide has passed, love remains the greatest unifier and glue of communion and community.
A long time ago Cicero, describing connections in the common good in De Re Publica, used the Latin word coetus. The Latin word is cognate to coitus or sexual union. He was endeavouring to express in the strongest, most powerful and most intimate way the importance of community connections for a healthy community. It is a paradox that in discussions on an institution based in love and union, we seem to have the opposite happening. Another tragedy will be the driving of a further wedge between church and state.
The challenge for those in this discussion is to acknowledge and respect the values of others and to be courageous and generous in love, because that is not only the common good, but the greatest good.
Russell Hoban is an Auckland council worker and mature student completing a theology degree.
Debate on this article is now closed.