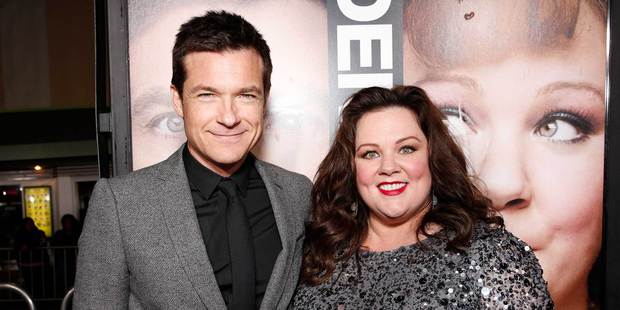 New York Observer longtime film critic Rex Reed is no fan of Melissa McCarthy or her latest movie - and that's putting it mildly.
Reed wrote a scathing takedown of Bridesmaids star McCarthy's latest comedy Identity Thief last week. He (like many others) panned the flick, but he also took a shot at McCarthy on a personal level by zeroing in on her physical appearance.
Directed by Seth Gordon (Horrible Bosses), the movie also stars Jason Bateman, who plays a businessman who is on the receiving end of McCarthy's identity-stealing shenanigans.
In his review, Reed calls Emmy Award-winning Mike & Molly star McCarthy "cacophonous," "Obese", "tractor-sized," and a "female hippo".
He also takes aim at the 42-year-old actress' "short" career.
"Melissa McCarthy is a gimmick comedian who has devoted her short career to being obese and obnoxious with equal success," Reed writes. "Poor Jason Bateman. How did an actor so charming, talented, attractive and versatile get stuck in so much dreck."
Crikey!
Readers quickly came to McCarthy's defence, flooding the comments section at the tail-end of Reed's review.
One commenter wrote: "Rex Reed, what is wrong with you? What benefit is there to attacking Melissa McCarthy personally when you're supposed to be talking about the quality of the film? There are so few people you can count on in this over-saturated industry for true film criticism, and you just ruined any remaining shreds of credibility you had."
Asked another: "It'd be interesting to know if Mr. Reed has referred to John Goodman as a 'hippo' or 'tractor-sized' in his reviews of that male actor's movies?"
Another reader vowed never to read the publication again. "Wow, this review is seriously offensive. Calling McCarthy a tractor-sized hippo? Remind me never to read The Observer again."
"I get you hated the movie," said Robin Mitchell. "I have hated lots of movies and didn't need to resort to name-calling and fat shaming. Professionals do not behave this way."
Reed was also rebuked on Twitter.
Film critic Jackson Murphy wrote: "Rex Reed calling Melissa McCarthy "tractor-sized" and "hippo" in Identity Thief review is just wrong. #1 Rule - no personal attacks."
Chimed Modern Family's Eric Stonestreet: "Turns out, Rex Reed didn't die sad and alone 10 years ago. Nope. He's alive and starving for attention, so lets give him some."
Paul Feig, who directed McCarthy in Bridesmaids, tweeted, "For his catty and school bully name-calling of the supremely talented Melissa McCarthy, I cordially invite Mr. Rex Reed to go f*** himself."
Grey's Anatomy showrunner Shonda Rhimes also chimed in, tweeting, "Best. Tweet. Ever."
Actor Chad Lowe (Rob Lowe's younger brother) wrote: "Film critic sideshow #RexReed's personal attack on actress Melissa McCarthy is vile & unacceptable. The @NewYorkObserver should fire him."
As The Hollywood Reporter notes, Reed is no stranger to getting personal in his reviews.
"There's nothing wrong with Sarah Jessica Parker, that couldn't be cured by wart-removal surgery," he wrote in his review of the first Sex and the City flick. "That growth on her face just gets bigger with every close-up, and in the full-length movie version of Sex and the City it's so distracting you can't concentrate on anything else.
"It's not a beauty mark. I guess you can't tell a co-producer anything, but listen up, girl. At this point, you would make a wonderful Halloween witch."
McCarthy has commented on her weight in the past.
"Sometimes I wish I were just magically a size 6 and I never had to give it a single thought. But I am weirdly healthy, so I don't beat myself up about it - it wouldn't help, and I don't want to pass that on to my girls," she told Good Housekeeping last year.
She added: "You just have to say, 'It's pretty damn good. I am right here at the moment and I'm OK with it. I've got other things to think about.'"
McCarthy has yet to respond to Reed's comments. However, the Observer's editor Ken Kurson is standing by Reed's review.
"Rex Reed is a national treasure. He has a right to his opinion and The New York Observer's smart, passionate readers have a right to disagree with his opinion," Kurson told The Wrap.
Check out the trailer for Identity Thief below:
FAST GOSSIP
And finally...
* Madonna joins Instagram, sips cocktail, flaunts sweaty cleavage.
* Miley Cyrus rips Perez Hilton after he publishes report insinuating that she was up to no good with Gossip Girl star Ed Westwick.
* Eminem to release new album this year.
* Kanye West and Kim Kardashian pack on the PDA in Rio.
* Taylor Swift, Harry Styles sex tape? Not so fast...
* Amanda Bynes calls Jay-Z 'ugly face' on Twitter, then deletes tweet.
* Kanye West pulls a Beyonce, reportedly tries to get leather skirt pictures banned.
* Bill Maher slams Donald Trump over $5million orangutan lawsuit.
* "My heart isn't in it anymore": Toni Braxton says she's retiring from music.
* Emma Watson defends Kristen Stewart: "Everyone makes mistakes".
Follow Myrddin Gwynedd on Twitter.
- Rumour Has It