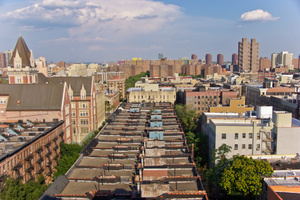 My final drink of the night was a warm spiked apple cider.
It was sweet and rich and thick, and if I held it on my tongue and breathed gently out my nose, I could taste the little hint of cloves and spice. It felt as wholesome and nourishing as alcohol ever can and I put the mug down only to tap a drum beat on my thighs.
The bar was a softly lit place with couches and stools and tables, divided into two main sections with a tight pinch in the middle. The floor plan reminded me of a toppled hourglass and at the pinch was a set of heavy curtains dulling live music on one side from the chatter and conversation on the other.
Musicians play at the bar every night. Eclectic musicians. Alternative musicians. Some are good, some are crap and most are different at the very least. Last week at the bar we saw a nerd-rock band of middle-aged men singing ironic songs about grammar and punctuation.
The bar was the first I ever visited in New York. I came with a friend to see a band a few days after arriving then returned several times in the weeks that followed, usually alone. I'd order wine or vodka or whiskey and loll in a back corner, leaning on a chair against the wall and keeping to myself. The headlining group every Monday used to improvise their set; their songs could last 20 minutes or more. I'd swill my drink and sometimes close my eyes until someone would bump me with a tin bucket labelled "Contributions for the Artist". It was a good place for thinking.
But it won't be for much longer. The bar is set to close this week; it'll host bands no further. Though it was popular enough, at least I always thought it was, the owners can't afford the rent and say they're looking for a new space.
The bar next door is bigger and much trendier with the Lower East Side set and it always has more people. Apparently it'll expand and take over my bar's space as well. I doubt it'll serve spiked cider.
"Are you guys coming back?" I asked the bouncer as I left.
"I dunno man, I hope so."
"When?"
"I dunno."
The next day I went to scope out my new apartment. It cost a lot of money and is in a part of town that hasn't traditionally been home to white, weedy guys from Christchurch.
"I've lived here 30 years," said a tenant whom I greeted in the hall. "This used to be ghetto. There used to be shootings. Now we got people like you showing up."
"I'm ghetto too." I laughed. "Just not ghetto in the traditional Harlem sense. Anyway, what apartment are you in?"
"The one above you," said the man. "But not for much longer. I can't afford the rent here, no more."
We shook hands and farewelled and I almost felt obliged to apologise.
I craved apple cider. New York City beat on.