Younger talent ready to fill captain's All Whites roles.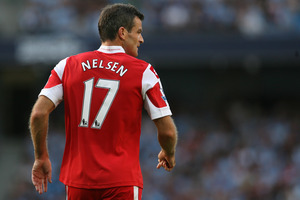 There is good reason to lament the almost certain retirement of All Whites captain Ryan Nelsen.
His leadership skills and organisational abilities will be much missed.
But to suggest his decision to move into coaching with Toronto FC is a hammer blow to New Zealand's chances of qualifying for the next soccer World Cup is surely over the top.
This country has never been better prepared to fill Nelsen's role in the centre of the defence.
In Winston Reid and Tommy Smith, it has two much younger players who fill that position at a high level, the former with West Ham in the English Premier League and the latter with Ipswich Town in the second-tier Championship.
As an added bonus, Reid and Smith are managed, respectively, by Sam Allardyce and Mick McCarthy, two men who were central defenders during long and distinguished playing careers.
Smith is a captain in waiting both for club and country, and for leadership skills New Zealand will soon also be able to turn to Australian-born Andrew Durante, who fills that role ably for the Wellington Phoenix.
Nelsen should be applauded for knowing when to call time on the on-field heroics that figured so large in New Zealand's 2010 World Cup campaign and have been in evidence most recently at struggling Queens Park Rangers.
At 35, he is increasingly injury-prone and slower to react to dangerous situations.
His role in World Cup qualifying may, necessarily, have been limited. There should be no carping about him leaving this country in the lurch.