Board deserves praise for its responsible decision.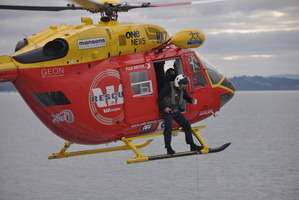 The Auckland Regional Amenities Funding Board, which spends a compulsory levy on ratepayers, has been criticised for reducing its grant to the Auckland Rescue Helicopter Trust in view of the trust's success in raising its own funds. On the face it, the decision seems perverse, inviting the trust to reduce its independent effort.
One correspondent to the Herald this week argued the rescue helicopter deserves more public funding, not less, since it has become an essential operation and the energy it has to expend on fundraising could be put to better use.
It is an argument that will appeal to ratepayers and national taxpayers who do not mind paying for any service of such conspicuous value. Most people can readily nominate items of public expenditure they consider less worthy that could release cash for the cause.
It is an argument with even greater appeal to every organisation that has to live on private sponsorship and voluntary donations.
Those are much harder to raise and sustain than grants from public coffers. Every organisation would prefer to receive all it needs from a public purse and nearly all deserve it. But it does not work like that.
An economy does not work very well, many countries have found, if every worthy service is financed from taxation and none need to put some of their energy into raising independent sustenance. Many a worthy service is provided from the private sector for a profit. But some of those that cannot carry a charge and make profits can offer value to commercial sponsors and capitalise in other ways on their popular appeal, and it is economically healthy that they should rely on those sources as far as possible.
The misconception that any good and essential service deserves a government grant is not confined to those who are not seeking a profit. Commercial firms are no less susceptible to government hand-outs and no less reluctant to present a case for them.
A mixed economy prospers when as many as possible of its goods and services are financed by voluntary trade and the proceeds of taxation are reserved for those that are essential and could not otherwise survive.
The rescue helicopter gives good value to its name-sponsor, Westpac bank, and its well-publicised work is guaranteed to elicit a good response to any appeal for public donations. The same is true of the Starship children's hospital and of some prestigious state schools that can command high parental donations. Consequent reductions in their public grants are socially and economically justifiable.
Far from complaining that they are being penalised for success, the fortunate should be quietly proud of their reduced dependence on public money. They should be praised and celebrated for the proof of value that voluntary finance provides, and for the public money their fund-raising success has left in the purse for the less fortunate.
Elected bodies know they will not be popular for diverting funds from services that are highly regarded. Their reasons are not easily explained in a sound bite and present critics and opponents with an easy target for cheap shots.
A prosperous society needs decisions such as the council has made, but it also needs an electorate that understands the different roles that public and private finance have to play to produce the best range of benefits for everyone.