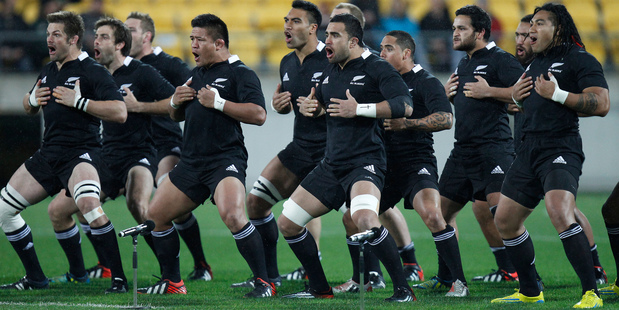 Shallow treatment of the traditional Ka Mate haka by New Zealand sportspeople is becoming an embarrassment.
What should be a celebration of Maori culture is being increasingly bastardised as a means to slap "Kiwi" status upon participants. While both cultures can enjoy the haka in comparative isolation, it morphs into murkiness when overdone.
A key example is described in Val Adams' autobiography. Members of the Olympic management team - led by chef de mission Dave Currie - whirred into action at 2am to celebrate Adams' gold at the Beijing Games with little thought for other athletes in the village competing later that day.
Buck Shelford gave the Ka Mate haka a renaissance when he led it during his tenure as All Blacks captain in the late 1980s. He gave the performance verve when previously - in the video and photographic annals of All Black history - it resembled amateur line-dancing.
The haka has subsequently earned international kudos as the means by which the All Blacks start tests, although sometimes too much emphasis can be focused on it, relative to the game.
Shelford, and in later years All Blacks Taine Randell and Piri Weepu, have been invaluable in making the haka credible.
Their contribution has been sullied by other New Zealand sportspeople yelling and slapping their way through a circus of showmanship.
The haka might be redolent of New Zealand as well as Maoridom but, in such circumstances, it becomes a party trick rather than a cultural icon. Several haka, like those celebrating the bronze medal of a swim relay team at the 2006 Commonwealth Games, make it as meaningless as a plastic tiki.
A recent case occurred when Olympic management attempted Ka Mate in the stands at the rowing during the 2012 Olympic Games. The rowers felt that it had been overdone; it had become a cliche and they asked that no further haka greeted the achievements of their five medal-winning crews.
Since 2005, the All Blacks have led the way in creating a solution to haka cliches with a bespoke version.
While Ka Mate is their staple, Kapa o Pango, with its rugby-tailored lines such as "Ko Kapa o Pango e ngunguru nei" ("the team in black is rumbling here"), is used for special occasions.
The All Blacks should use Kapa o Pango all the time because of its specific rugby analogy rather than the less relevant Ka Mate which describes Ngati Toa chief Te Rauparaha's early 19th century experience hiding from his pursuers in a kumara pit.
The women's Black Ferns and Super Rugby's Chiefs have instigated similar initiatives to the All Blacks. For instance, the women's pre-test performance differs in style, stance and ferocity to the men's version. Women never poke out their tongues; in Maori culture, that tends to be a man's domain relating, among other things, to an extension of 'manhood'.
They apparently prefer to show the whites of their eyes to show they're 'alive'. Similarly the Chiefs, like numerous school first XVs around the country, have opted for their own version.
An example was reserved for fans after victory over the Sharks in this year's Super Rugby final.
The time has come to take the haka to the next level with the Maori cultural renaissance of the last generation.
If you're a New Zealand sports team, don't be lazy by relying on Ka Mate. Establish your own so it means something.
But don't overdo it ...

Debate on this article is now closed.